16фев16:0016:00Learn to play the guitar! Master class for adults and children 25.02.2018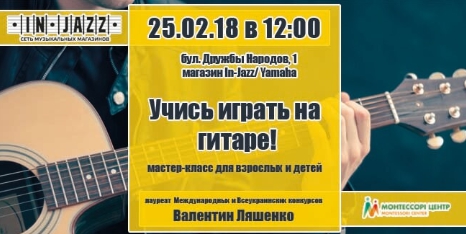 Подробнее

We invite everyone to the guitar master class!
In the program of the master class:
• Acquaintance with guitar schools and techniques
• Is it possible to learn on your own and what to start with?
• How to learn to pick up by hearing and improvise?
• Open communication with students and teachers.

This master class will be interesting:
— Fans and judges of guitar;
— Beginning guitarists who already have basic skills and want to improve;
— Children and adults who want to get acquainted with the guitar;
— Teachers who teach the game on an acoustic guitar;
— Parents of musically gifted children.

What is the difference between a classical guitar and an electric guitar?
How to choose the right guitar?
How can I study on my own?
Is it possible to learn improvisation and selection by ear?
How to work on your performing skills?
What kind of guitar schools and methods are relevant for modern children and adolescents?
How to choose a «winning» repertoire?

These and many other questions will be answered by the leading teacher in the guitar class of the International School of Arts «Montessori Center», laureate of the International and All-Ukrainian instrumental competitions VALENTIN LYASHENKO on Sunday, February 25, 2018 at 12:00.

In the master class will take part VALENTINE LYASHENKO`s students of different ages and levels of preparation.
You can evaluate the results of the work of the teacher, be inspired by the performance of young talented children, see new prospects for the development of your own child or student.

You will learn unique techniques of working on technique, you can ask questions directly to the teacher and try to play on the best guitars in the world, which will be presented on the stage of In-Jazz within the framework of this master class.
There is nothing impossible, for those who really want to!

The master class will take place in the cozy hall of the musical instruments store In-Jazz, bul'var Druzhby Narodov 1, in a relaxed and creative atmosphere, precisely on the stage where many famous Ukrainian artists started their star journey.

The cost of participation is 100 uah, for children up to 10 years — 50 uah.
Register now by phone: (067) 381-15-72, (067) 829-49-74
Limited number of seats.