MONTESSORI CENTER PRICE LIST
At the School of Music, the Art School and the Studio of Choreography
Montessori Center offers you:
Individual lessons (from 200 UAH.)
Group lessons (from 150 UAH.)
Lessons can also be conducted at home (from 300 UAH.)
All individual lessons in all areas of our schools have the same price. Also, group lessons in all places have the same cost and so do, accordingly, those one provided at home.
At "Montessori Center", you can pay for each lesson or buy a full subscription for any number of lessons. Our experience suggests that if you visit "Montessori Center" once a week, you would likely to buy a subscription for four lessons. If you want to attend classes twice a week, you should take a subscription for 8 lessons.
CALCULATOR
CALCULATION OF COST A SUBSCRIPTION
Select a lesson type:
Number of lessons:
Subscription price:
0 UAH
IMPORTANT!
Your subscription will not have a period of use. You can visit all the missed lessons at any time convenient for you.
A lesson can be canceled without losing its cost if you inform us at least 24 hours before it starts.
If you do not cancel the lesson on time, we will be waiting for you and will not be able to save your payment.
PROMOTIONS
Subscriptions for the academic year 2019 – 2020 are now on sale with really HUGE – discounts: 8 individual lessons = 1710 UAH. (instead of 2160 UAH), 8 group lessons = 910 UAH. (instead of 1200 UAH), 8 home lessons = 2160 UAH. (instead of 2400 UAH).
The first (trial) individual lesson costs 135 UAH., Group – 95 UAH.
Bring a friend and get a 15% discount on your next purchase.
Buy an annual subscriptions and save 4900 UAH! The cost of one lesson in an annual subscription is 200 UAH. instead of 270 UAH!
Yoga lessons discount – 1 lesson for free and the first subscription -50% – only available until August 31, 2019
Special offer on English lessons – for beginners, the first subscription is 50% at the school on Knyazhiy Zaton, 21 (M. Osokorki)
Discounts for beginners on piano lessons! On sale season tickets for 8 lessons with a 50% discount in all our schools!
Discounts for beginners on vocal lessons! On sale season tickets for 8 lessons with a 50% discount in all our schools!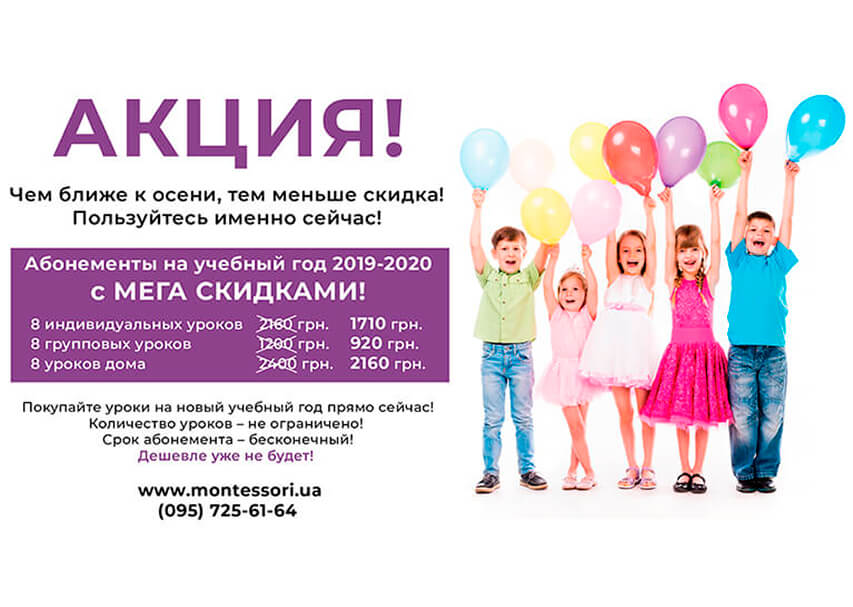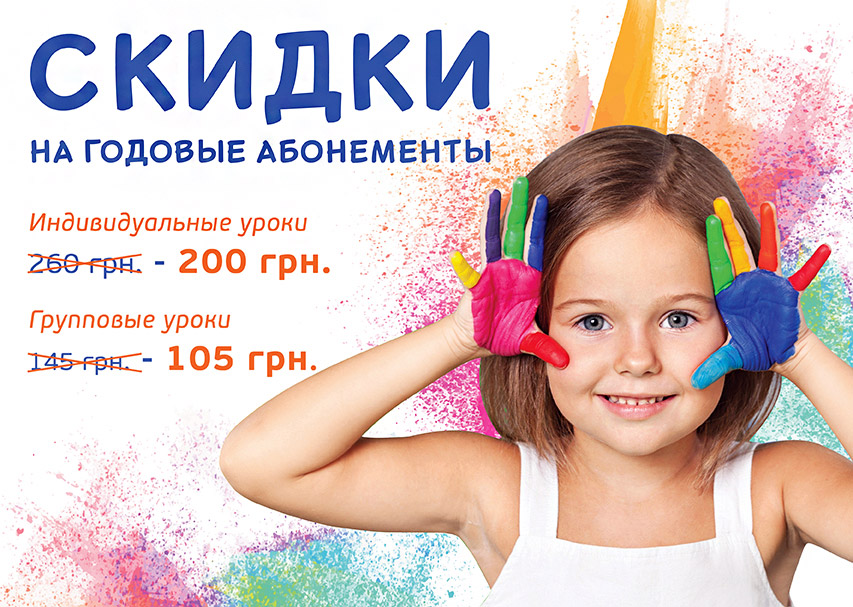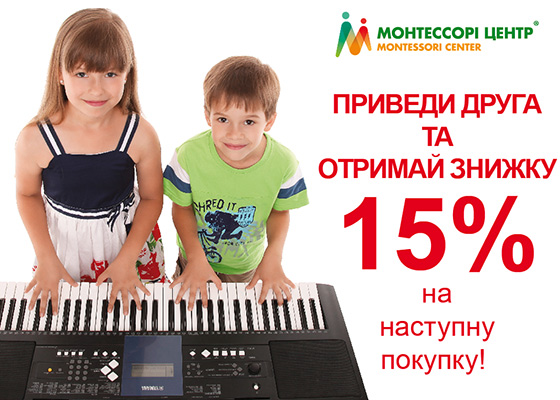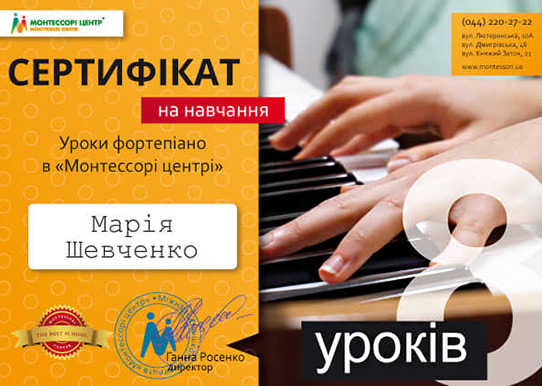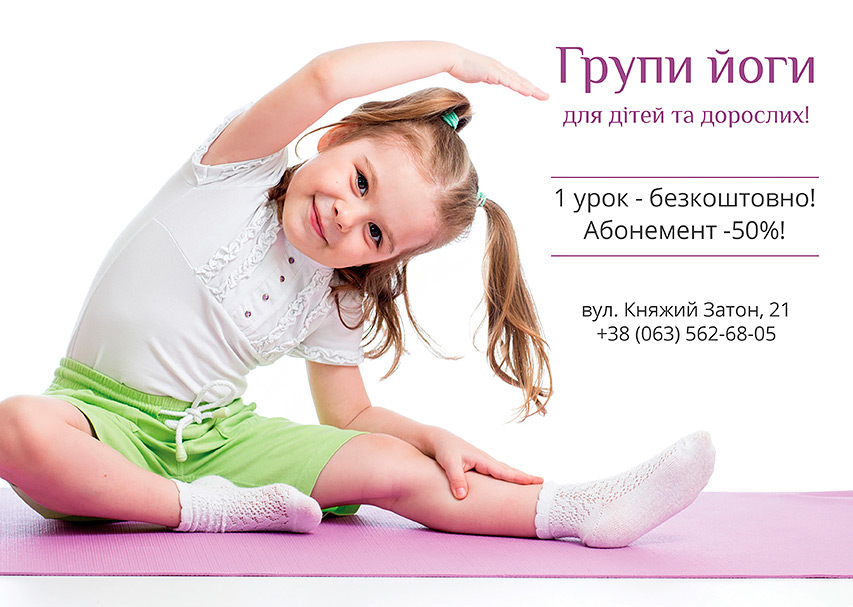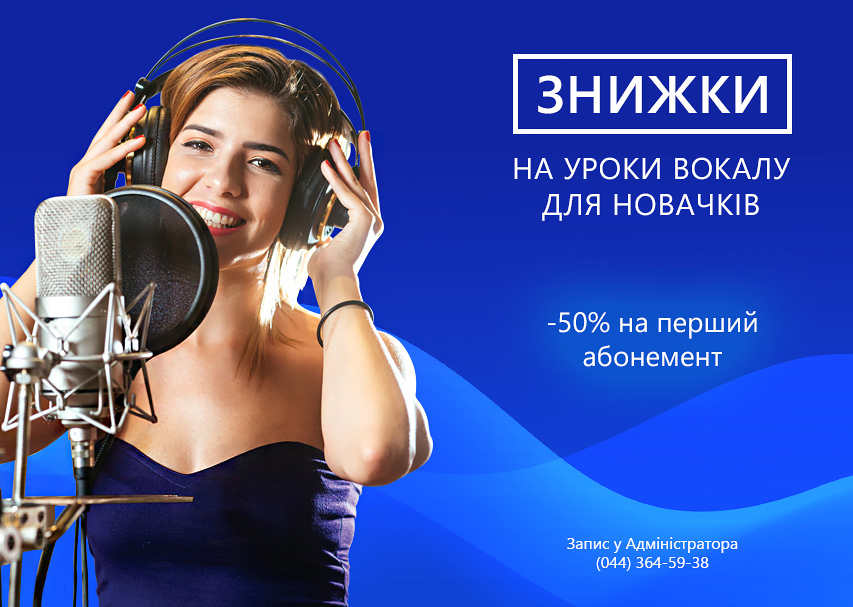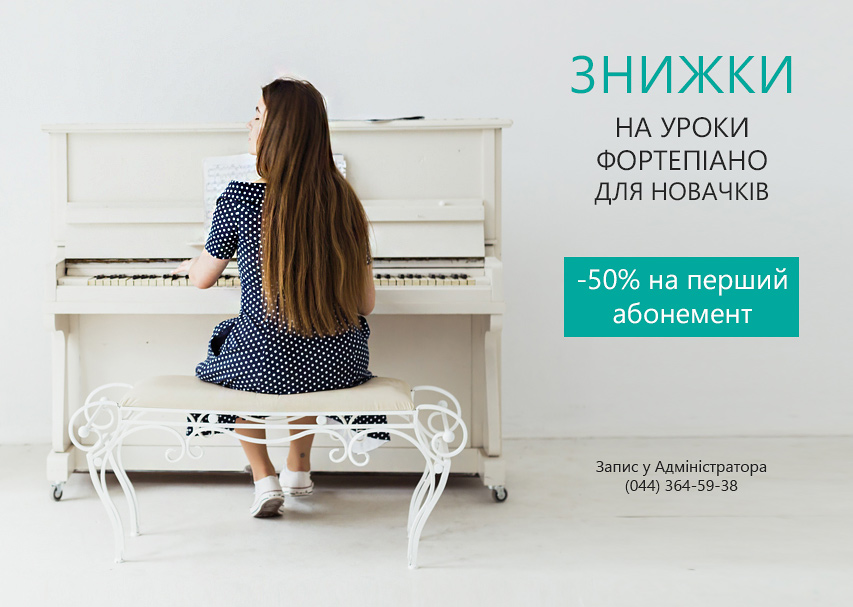 Book a trial lesson at Montessori Center