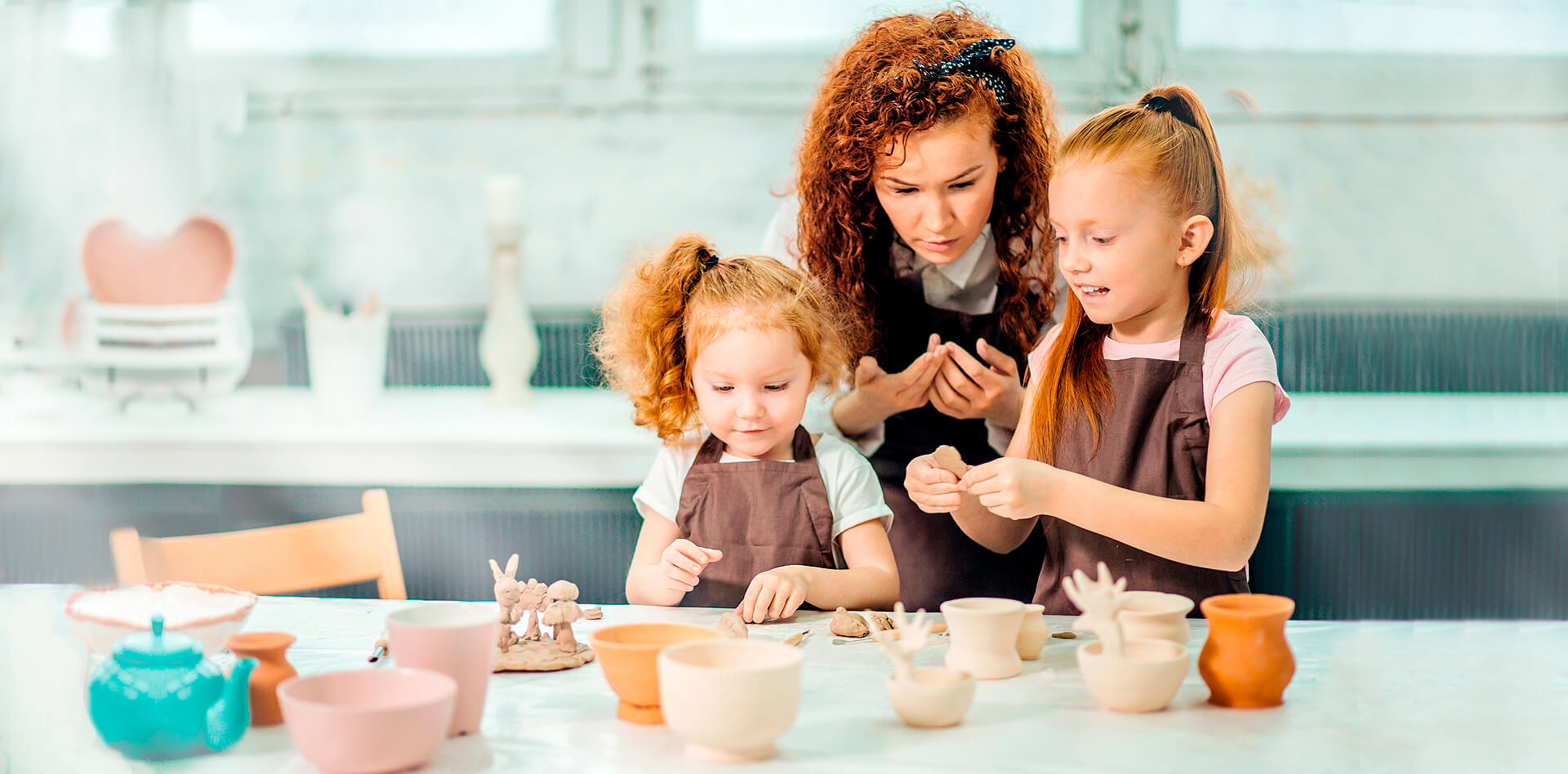 Sculpting Lessons at
«Montessori Center»
SCULPTING LESSONS AT «MONTESSORI CENTER»
Creating masterpieces from plastic materials with your own hands is a form of art. A child gets acquainted with it from an early age when he begins to make sculptures from sand, plasticine or salt dough. This fascinating process develops fine motor skills, stimulates the nerve endings and develops some of the brain regions.
Even a naughty boy can quickly calm down when he is busy making different shapes from clay. This process requires attention and perseverance if you wish to achieve success. Therefore, young children learn to never give up.
For adults, sculpting is a way to relax and get away from the hustle and bustle. Hand work always relaxes your mind. "Montessori Center" offers sculpting courses for children and adults where they learn to create real masterpieces from different materials.
Sculpting lessons are very useful for children not only from the point of view of harmonious psychological development. Children learn to dream and to realize their ideas. They develop abstract thinking. It is the best way to memorize any information and to discover the world by recreating the objects in it.
Coordination of the fingers during the modeling teaches children to control their parts of the body. Constant eye contact with the object of modeling develops attention and observation. Children get acquainted with the color, shape and volume of various objects.
Sculpture and pottery lessons have a positive socialization effect. It becomes easier for children to get involved in everyday life if the objects of the world around him look familiar. For adults, such activities are a way to find new friends, to gain various skills, to expand your horizons and to realize the potential of your creativity. The dexterity of our hands eventually decreases, that's why such activities have a great therapeutic effect on the adults.
The involvement of various parts of the brain which is provoked by the sculpting lessons is important not only for children but also for adults. As mental abilities decrease over time, working with your hands allows you to maintain clarity in your mind for many years. Therefore, we do not have the age limit for our classes. Our students should be at least one year: at this age, the child can already be explained that clay or dough should not be eaten (even though we use non-toxic materials for babies).
During the class, we use a variety of materials. Adults prefer lessons of sculpting at our center in Kyiv. We teach you to create stylish interior items: plates, flowerpots, different shapes and other objects of fine art. It is easy to reveal your creative potential with our professional teachers: the lessons are conducted in an easy, accessible form with a fascinating insight into the history of sculpture and pottery.
Plasticine modeling at "Montessori Center" Art School instills a sense of beauty in children, reveals their creative talents and contributes to the proper and harmonious development. Come to us with your whole family and create masterpieces!
«MONTESSORI CENTER» – No. 1 AMONG ART SCHOOLS
Subscription cost
| | | |
| --- | --- | --- |
| Number of lessons in the subscription | Subscription price (UAH) | Price of a lesson in a subscription (UAH) |
| | | |
| --- | --- | --- |
| 1 | – | 200 |
| 4 | 800 | 200 |
| 8 | 1600 | 200 |
| | | |
| --- | --- | --- |
| 1 | – | 100 |
| 4 | 400 | 100 |
| 8 | 800 | 100 |
Important!
Your subscription will not have a period of use. You can visit all the missed lessons at any time convenient for you.
A lesson can be canceled without losing its cost if you inform us of the cancellation 24 hours before its start.
If you do not cancel the lesson on time, we will wait for you and we will not be able to save your payment.
Все очень нравится. Преподаватели отличные!
Я больше, чем 2 года занимаюсь в "Монтессори центре" вокалом с Екатериной Королёвой. Петь – моё любимое дело с детства, но долго не могла найти своего преподавателя. Придя на первый урок к Катерине, я влюбилась в вокал заново. Безумно счастлива, что нашла педагога, который меня чувствует и вдохновляет. После каждого занятия мне хочется творить. На […]
Ходим на рисование, очень нравится преподаватель Елена Ступак, приятная атмосфера + отличный результат. Ребенок ходит с удовольствием. Единственное, хотелось бы лояльного отношения по поводу правила 24 часа в случае отмены, иногда по состоянию здоровья не можешь отменить урок за 24 часа. Мы ходим уже 3 года, можно иногда делать исключения.
Мы очень довольны! "Монтессори центр" с большой буквы "Супер". Хорошо все настроено "по-ноткам". Мои два мальчика-живчика бегут наперегонки к своим Катюшам. Испробовали все: и английский, и лепку, и барабаны, и пение, и музыку, выжигание. Нам очень сложно остановиться на одном, т.к. выбор очень большой. И это радует. Спасибо Вам большое.
Хожу на вокал примерно месяц и уже видны результаты. Мне очень нравится, буду продолжать упорно стараться. Спасибо за знания и поддержку.
Огромная благодарность моему преподавателю по вокалу Наташе за терпение и усердную работу. Вижу свое постепенное развитие. Спасибо!
Мы родители Валерии Матющенко, 6 лет. Занимаемся в "Монтессори центре" с 3-х лет лепкой, потом рисование, английский, вокал (сначала хор), затем фортепиано. Все преподаватели на отлично: заводные, отзывчивые, вкладывают душу в детей, а не просто проводят занятия: и Лилия, Настя, Анна, Мария, Лена. Лера всех очень любит. Очень удобная система бессрочного абонемента. Благодаря "Монтессори центру" […]
Parents of Valeria Matyushchenko
Наши дети Александра и Екатерина очень любят посещать "Монтессори центр", а особенно рисование, танцы и пение. Большое спасибо преподавателям и всему коллективу за отлично поставленный процесс обучения. Наши дети просто в восторге.
Хожу уже на гитару второй год в Монтессори Центр к Лесе, сначала играл на классике, теперь на электрогитаре. Мне очень нравится, я очень рад, что занимаюсь в Монтессори Центре.
Мои внуки Дегтяр Анастасия и Дегтяр Михаил посещают "Монтессори центр" с большим удовольствием. Михаил изучает английский, а Анастасия рисует. Добились больших успехов. Огромное спасибо преподавателям центра за чуткое отношение к детям.
Хожу на рисование примерно месяц и за это время мой навык в рисовании повысился. Очень нравится преподаватель Кристина. Урок проходит в теплой и дружелюбной обстановке. Очень нравится.
В Монтессори центр моя дочка Соня начала ходить 3 года назад, еще в садике. Сейчас она уже ученица 2 класса и ее любовь к балету стала еще больше!! Нам очень повезло, что мы открыли для себя эту школу! Здесь ребенок имеет возможность раскрыться, развить свои таланты и просто быть довольным и счастливым, танцуя, рисуя, играя […]
Занимаюсь в данной музыкальной школе более 4-х лет и не устаю радоваться каждому новому уроку. Имела множество возможностей контактирование не только со своим преподавателем, но и с другими коллегами и осталась довольна всеми! Они отзывчивые, понимающие и готовые принять и помочь реализовать даже самые необычные композиции… В общем, в целом, советую данную школу – для […]
Добрий день, читачу! Надіюсь, що тобі весело та комфортно тут ❤ Оскільки я навчаюсь тут вже багато років, можу дати тобі пораду – НЕ БІЙСЯ! Йди до своєї мрії! Малюй, грай, танцюй, співай!!! Надіюсь, що ти здійсниш свою мрію з допомогою Montessori Centr! А я, в свою чергу, ДЯКУЮ за таку чудову школу і таких […]
Давно ходила в Монтессори на рисование, сейчас занимаюсь музыкой. Преподаватели здесь замечательные, они понимают своих учеников и находят индивидуальный подход к каждому. Хорошо здесь то, что программа занятий не скучная. Тут дают теорию, после чего можно выбрать ту песню которую сам хочешь. Желание петь, рисовать и прочее не угаснет. Очень советую эту школу!!❤
Я Настя и мне 8 лет. Я хожу на йогу, вокал и фортепиано. Хочу записаться на курсы кроя и шитья, буду шить себе сумки. Я люблю «Монтессори центр», потому что тут добрые учителя. Моих учителей зовут Катя, Катя и Яна. ❤❤❤❤
Я люблю играть на гитаре с Надей, люблю петь с Катей. Еще я ходил на рисование, когда мне было 5 лет и мы с Катей озвучили первый мультик в «Монтессори центре» про енотика. Здесь работают очень жизнерадостные люди. Спасибо что существует такой центр.❤
Montessori – это команда профессиональных преподавателей, которые прививают моему ребенку любовь к искусству и к труду. Они внимательны и вкладывают свое сердце в свою работу с детьми. Я благодарна Кате Королевой за то, как она раскрывает моего ребенка на своих уроках вокала! Огромное спасибо преподавателю живописи – Кате Божко – Ваша работа чудесна!❤
Елена, мама Саши Рябцевой.
Я ❤ Montessori center, тому що тут завжди раді бачити, тут завжди гарно і весело! Тут можно відчути себе справжньою зіркою 🌟 бо проходить багато концертів і цікавих конкурсів. Я ходжу на вокал до Каті Корольової і це моя улюблена вчителька!! Дякую за новий досвід і ще багато чого.
"Моя внучка ходит к Вам на английский язык. Очень нравится преподаватель Елена Владимировна. У нее всегда интересные уроки, прекрасное отношение к ученикам. Спасибо, будем и дальше посещать уроки."