02апр10:0010:00All-Ukrainian open vocal and choir competition VOCAL.UA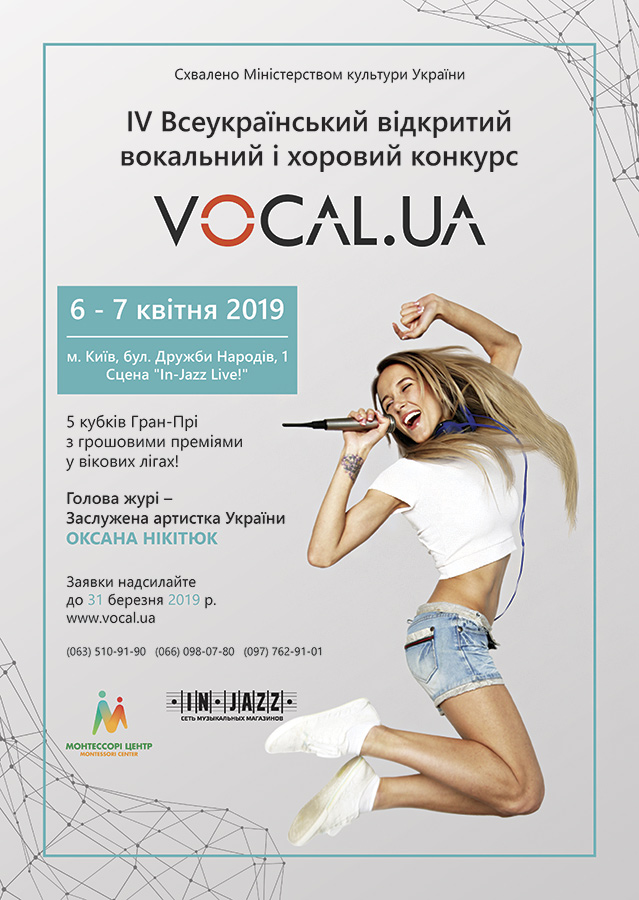 Подробнее

Our team holds the fourth time the All-Ukrainian open vocal and choral competition VOCAL.UA. This season's competition will be held April 6 – 7, 2019.
More than 100 performers of different ages from all over Ukraine have applied.

Schedule of performances can be found by the link

The jury is a star composition of the best performers and teachers in Kiev. The jury is headed by Honored Artist of Ukraine Oksana Nikityuk. Jury members: Honored Artist of Ukraine Valeria Tulis, Honored Artist of Ukraine Elena Lukashova, Principal Chorus Master of the Choir of the Opera Studio and Senior Lecturer at the Choral Conducting Department of the National Music Academy of Ukraine. P.I. Tchaikovsky – Dmitry Kravchenko, winners of the Grand Prix of the "Voice of the Kraina" and VOCAL.UA – Yarina Kuleshova-Shust and Yekaterina Momrenko, associate professor of the pop performance department, deputy head of the department of the National Academy of Culture and Arts of Culture and the Arts.

The students of the Montessori Center always take part in competitions, this time they have registered: Andrey Lesenko, Alexandra Dudal, Anna Kerik, Vera Kostrova, Eva Danilyuk, Irina Papko, Satyam Chandra. We wish our stars only victories and cheer for everyone!!