06фев09:0009:00Guitar lessons -50% for beginners!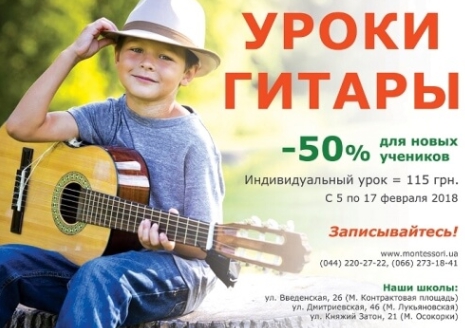 Подробнее

Have not you tried playing the guitar yet?!
Call us and we will sign up you on the first test lesson at a time convenient for you!
You can buy a subscription for 8 lessons with a 50% discount!
The individual guitar lesson costs only 115 uah!
You will play guitar after the first lesson!
You will participate in our music groups.
We have all kinds of guitars for training and you can not to spend money on buying guitar!
Our methods are the most modern!
We do not put an assessment, you will voluntarily strive for excellence!
We do not abuse students. We praise and work together on mistakes!
You will win in prestigious competitions and perform at brilliant concerts!

Call us and sign up for the first lesson!
http://www.montessori.ua/en/music/guitar
(093) 708-76-82
(095) 725-61-64
(097) 636-30-70

Choose a convenient address.
Our schools:
26, Vvedenskaya St. (M. Kontraktovaya Plosha).
46, Dmitrievskaya St. (M. Lukyanovskaya or M. Vokzalnaya).
21, Knyazhyi Zaton St. (M. Osokorky).