23июль10:0010:00"Montessori Center" Birthday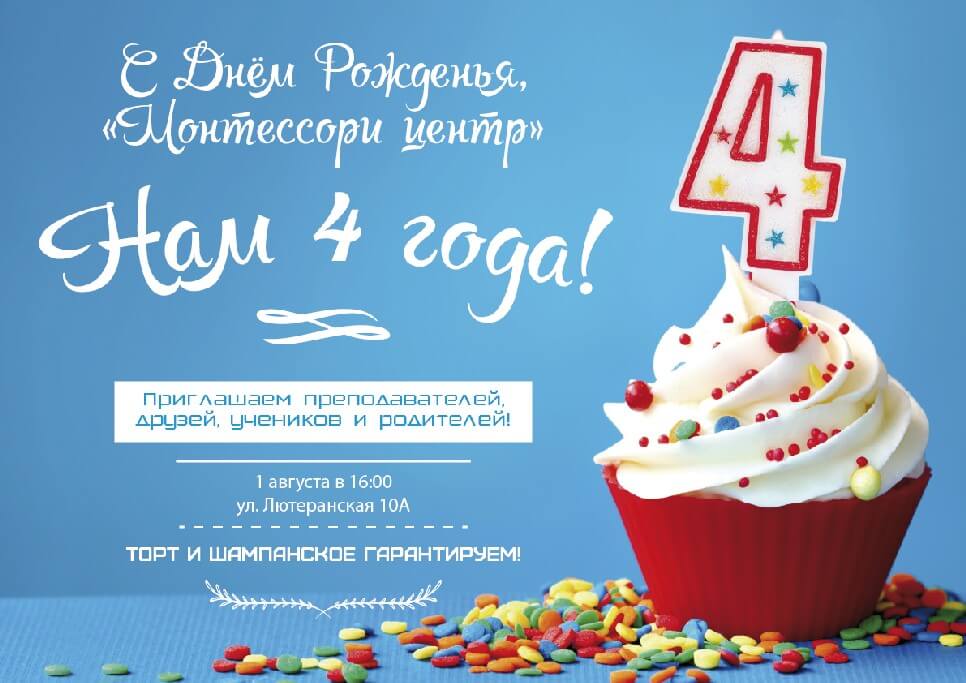 Подробнее

On August 1st, 2015 the International School of the Arts "Montessori Center" 4 years old! When compared to the person's age, we are still very small. But in fact, our team has reached many of the goals and the results of these four creative years!
First of all: from a small school on the street Thieves' we have grown into a beautiful and comfortable four schools in different parts of Kiev!
Second, we put into practice several major projects:
Gallery and Children's Drawings Contest www.ChildOpenArt.com,
"Petit-Pas" Choreography Festival
"Golos Krainy" All-Ukrainian Olympics www.goloskrajini.ua. And thanks to the All-Ukrainian Olympiad on "Montessori Center" as an organizer learned the whole Ukraine.
Third:
open English language school "Montessori English School";
open studio photos and video "My Treasures";
conducted hundreds (!) concerts of students and teachers on a weekly basis!

Fourth: the four years of life, we have got reliable partners: IBG "Kovalska", Special Recording Systems SRS, Borys Grinchenko Kyiv University, "Jazz Club" musical instruments shop, "Deja Vu" restaurant, "Vino Grad" restaurant, "Krendel" restaurant
And, most importantly, to our lessons for four years, YOU come – better than a thousand students!
We invite all the friends in the warm meeting, to be held August 1, 2015 at 16:00 at the 10A Liuteranska St.
Cake and champagne guaranteed!