Our Team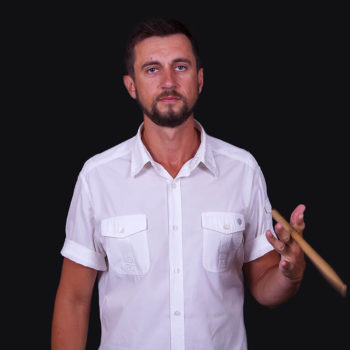 EVGENY PANCHENKO
PERCUSSION INSTRUMENTS TEACHER
Evgeny Panchenko is a musician to the very tips of drum sticks! His lessons can be compared with interesting journeys into the world of drums, music, and rhythm, which you do not want to leave after 45 minutes of a lesson. Evgeny graduated from Kyiv Institute of Music. n.a. RM Glier as a specialist in "Musical art, percussion instruments". His work experience as a musician is over 6 years. Students from the class of Evgeny Viktorovich perform at musical concerts and achieve excellent results in playing the full drum set, so they become real musicians from the very first months of study.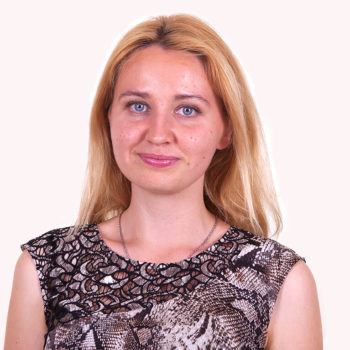 NATALIA KRUTKO
VOCAL AND PIANO TEACHER
Natalia Krutko is a vocal and piano teacher and these two specialties are very well inter­twi­ned in her lessons. All students of Natalia Serge­yevna sing and play with great pleasure. Natalia graduated from Artyomovsk Music School n.a. I.Karabitsa as a "Piano teacher, accompanist, artist of the ensemble", from Melitopol State Peda­go­gical Univer­sity n.a. B. Khmel­nytskyi, as a specialist in "Musical Art, teacher of piano and vocal", as well as from Kyiv University (Institute of Postgra­duate Edu­cation) n.a. Boris Grin­chenko. Her pedagogical work experience is 6 years. She developed her own methodical program and recommendations in the field of piano performance called "Piano exercises as a way to develop the performance technique of students-pianists". She maintains an active concert activity, her students are laureates and winners of All-Ukrainian and International competitions. As she often says: "My pedagogical principles are " Love for music ", " Love for children", "Belief in yourself".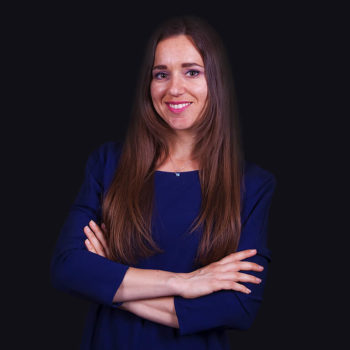 EKATERINA ROMANYUK
ART TEACHER
Ekaterina Romanyuk is a teacher of painting, graphics and deco­ra­ti­ve arts. She graduated from the Khmelnytskyi National Univer­sity with a degree in "Graphic Design". Her pedagogical work experience is over 7 years. Since 2018, Catherine has been educating a large number of students at "Montes­sori Center", with whom she success­fully participates in All-Ukrainian exhibitions school competitions.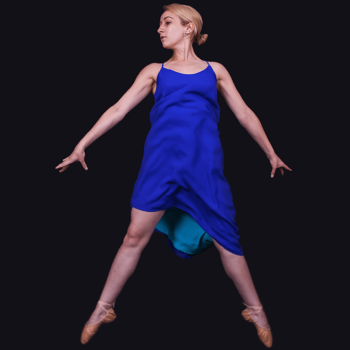 Daria Burchak
CHOREOGRAPHY TEACHER
Daria Burchak is a modern dance choreography coach who works so well that by the end of her lessons both children and adults are absolutely delighted. Daria studied modern dance styles and the Irish step, and also passed the qualifying exam in the program of folk-stage dance in the exemplary choreographic ensemble of the Boyarka city (Kyiv region). In addition to choreography, Daria is involved in the organizational process of various theatrical activities. She has more than 15 years of stage experience, won prizes in the Irish Dance Championships (WIDA) (solo performance), has more than 2 years of pedagogical experience. Daria's students successfully perform at festivals of choreography, conquer new frontiers and enthusiastically attend their classes.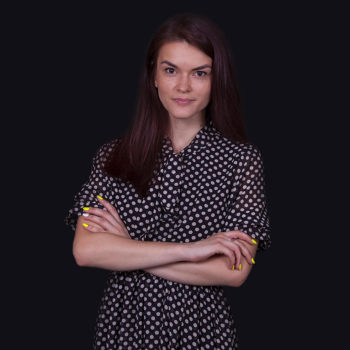 EKATERINA CHALAYA
VOCAL AND PIANO TEACHER
Ekaterina Chalaya revealed her musical talent to us in Sep­tem­ber of 2016. Sensitive, subtle, feminine and at the same time, with confidence and strong character, Ekaterina educates today one of the largest classes of pianists and vocalists at "Montessori Center". Students simply adore her because the lessons are very creative and interesting! Moreover, Ekaterina Viktorovna receives the longest and warmest reviews from her students. Catherine graduated from The State Pedagogical University n.a. V. Vin­nichen­ko, receiving a degree in "Musical Art" (Kirovograd city). She also owns degrees as a teacher of the piano, percussion instruments and vocal. Catherine is the winner of many international competitions. Her pedagogical work experience is over 8 years. By learning together with Catherine, students grow as true professionals and acquire all necessary performing skills with great pleasure.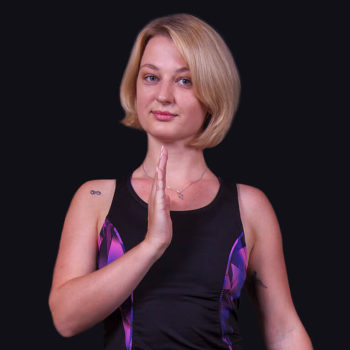 YANA AGAFONOVA
YOGA COACH
Yana Agafonova is a yoga tra­i­ner: Whoever you are, at her lessons you will receive an unreal charge of energy, positive waves and absolute peace of mind. You will get what people usually lack in their everyday life – careful attention,positive thoughts and, of course, the pleasure of training. Your body will respond to you in return – with health and beauty. Yana has been practicing yoga since 2014, and today she successfully works with both children and adults. She has graduated as a yoga trainer from one of the best yoga schools in Ukraine, she has visited many professional seminars and masterclasses. "I do yoga with children and I know all the importance of an individual approach to every child. Our classes are held in the form of an easy game with an accessible presentation of information and learning of yoga poses. Yoga is a powerful foundation for children. It is vital for the further development of their careers in various sports, studies, and art, creating balance and mutual understanding between their parents and peers, the ability to cope with stresses and tensions. Children's yoga involves gymnastics, which adds physical health and helps to avoid problems such as scoliosis, posture distortion, flat feet and other disorders. As for adults, while performing asanas (postures in yoga), there is a great opportunity to work on your attention, body sensation, visualization, and psychosomatic work. "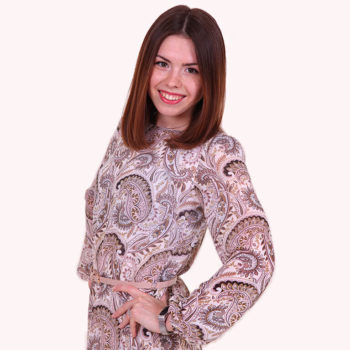 Anastasia Torunyan
VOCAL TEACHER
Anastasia Torunyan is a talented teacher, singer, and musician. She graduated from Kyiv Ins­ti­tu­te of Music n.a. R.M. Gliera as a professional in "Choral conducting" and from Kyiv University n.a. Boris Grin­chen­ko with a degree in "Musical art". Her pedagogical work experience is 6 years. Anastasia is a prize-winner of many All-Ukrainian competitions. Her students also participate and win All-Ukrainian and International competitions, following the quote of Leonardo Da Vinci "Tristo è quel discepolo che non avanza il suo maestro" These are the words she says about her work: "My main goal is to develop creative thinking and to instill good musical taste in my students." In her variety of vocal lessons, Anastasia works on a complete vocal student's "image" – from song selection to stage costume and choreographic performance. Each vocal lesson is a step to the greater stage, to the play and the depth of music itself. When you specify your goals, it is always easier to get closer to their realization.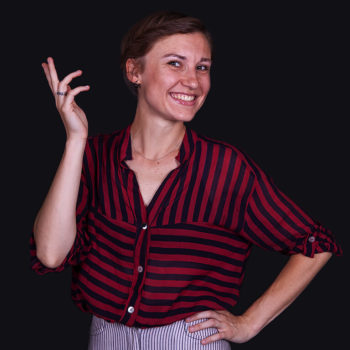 Anna Vigura
ART TEACHER
Anna Vigura is a teacher of painting, graphics and deco­ra­ti­ve arts. What is more, she successfully teaches in English as well. Anna's huge class is full of multinational aspiring artists, carried away by their teachers in the world of art. Anna graduated from the graphic arts faculty of Odesa South Ukrainian Peda­go­gi­cal Univer­sity with a degree in graphic design. Since 2016, she has been educating future winners and participants of various competitions and exhibitions at "Montessori Center". Twice a year, Anna's students take part in the All-Ukrainian Open Competition-Exhibition #MYSTETSTVO.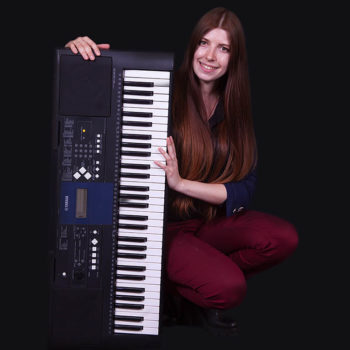 VALERIA TARAN
PIANO TEACHER
Valeria Taran can be described as creative and independent, musical and original, risky and reliable. We have four academic years behind us. Dif­ficult, dif­fe­rent, interesting and saturated, creative and successful. Lera knows how to study! Lera knows what to tell the student to make him confident! Lera knows what to tell the student's mom to find a soulmate in her. Valeria graduated from The National Music Academy of Ukraine n.a. P. Tchaikovsky (class of O. Bezborodko). She is the winner of the All-Ukrainian New Music Olympiad "Voice of Ukraine", and she is actively involved in the preparation of students for various concerts and competitions. Her pedagogical work experience is more than 4 years.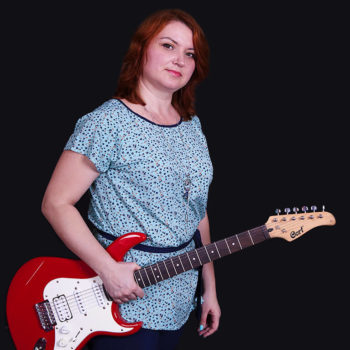 LESYA IGITSKAYA
GUITAR TEACHER
Lesya Igitskaya is an incredibly talented guitar teacher. Lesia has a huge class of students who trust her endlessly. Lesya Ivanovna graduated from the Folk Department of Uzhgorod State Music School n.a. D. Za­do­ra, as well as from Rivne State Humanitarian University with a degree in "Guitar teacher, orchestra artist, orchestra leader". She worked as an artist in the orchestra of Trans­carpa­thian Regional Drama and Comedy Theater. Her peda­go­gi­cal experience – 15 years. During her lessons, the teacher will introduce students to all the guitar types: classical, electric and bass guitar. The fascinating world of guitar music captures every student – both child and adult. Whoever is in the guitar class, he will stay here for a long time!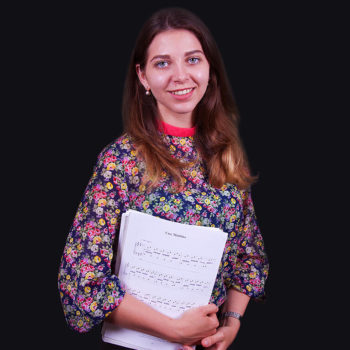 Lilia Vezovik
VOCAL AND PIANO TEACHER
Lilia Vezovik is a talented teacher and a wonderful singer. Lilia graduated from Kryvyi Rih Pedagogical University with a degree in musical art. Her pedagogical work experience is 8 years. Lilia is actively preparing her students to participate in the concerts of Montessori Center, as well as in the All-Ukrainian competitions. "During the lessons, we try to settle proper breathing, teach them to do exercises for the development of musical hearing, pure intonation, proper sound extraction, a sense of the metro-rhythm and clear diction." At the lessons, Lily always plays very beautiful music. Her approach to the selection of the musical repertoire for the lessons is very careful because when students play or sing their favorite compositions, their passion for art skyrockets.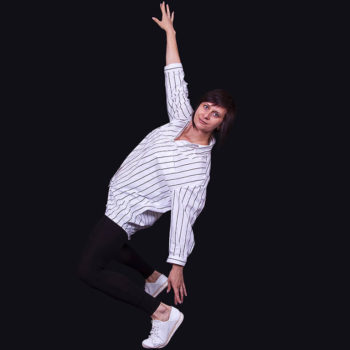 OLGA KRIVTSOVA
CHOREOGRAPHY TEACHER
Olga Krivtsova has been a mo­dern dance coach at "Mon­tes­sori Center" since 2016. For several years, Olga's class has grown and strengthened. Olga graduated from Kyiv University of Culture and Arts with a degree in "Cho­reo­gra­pher of folk choreo­graphy, an artist and a teacher of specialized disciplines". Her peda­go­gical work experience is more than 6 years. "The lessons in my classes can meet all of the highest standards. This is ensured, first of all, by a high degree of demand towards the children and the quality of students' performance, by diligent preparation for each lesson, for each show. My life motto is "Never to stop at what has been accomplished, but seek, implement, improve! "