Our Team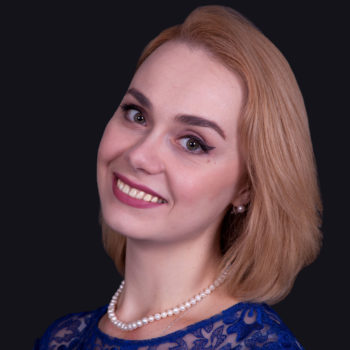 Maria Lopatina
PIANO TEACHER
Maria Lopatina is a great teacher. The joy of creativity and the beauty of music always reigns in her class. Maria graduated from the National Pedagogical University named after M.P.Drahomanov, the faculty of arts named after Anatoly Avdeevsky in piano, has experience as a teacher in a music school. Mariya Yurievna is an excellent pianist, winner of many All-Ukrainian and International competitions and festivals. Maria brings up the same winners in her class as she does!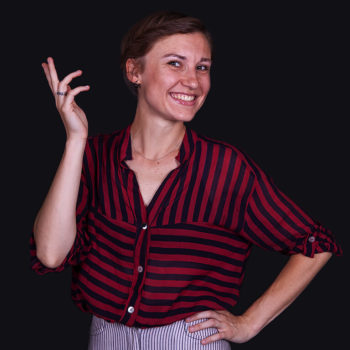 Anna Vigura
ART TEACHER
Anna Vigura is a teacher of painting, graphics and deco­ra­ti­ve arts. What is more, she successfully teaches in English as well. Anna's huge class is full of multinational aspiring artists, carried away by their teachers in the world of art. Anna graduated from the graphic arts faculty of Odesa South Ukrainian Peda­go­gi­cal Univer­sity with a degree in graphic design. Since 2016, she has been educating future winners and participants of various competitions and exhibitions at "Montessori Center". Twice a year, Anna's students take part in the All-Ukrainian Open Competition-Exhibition #MYSTETSTVO.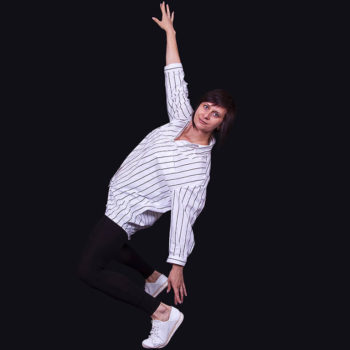 Olga Krivtsova
CHOREOGRAPHY TEACHER
Olga Krivtsova has been a mo­dern dance coach at "Mon­tes­sori Center" since 2016. For several years, Olga's class has grown and strengthened. Olga graduated from Kyiv University of Culture and Arts with a degree in "Cho­reo­gra­pher of folk choreo­graphy, an artist and a teacher of specialized disciplines". Her peda­go­gical work experience is more than 6 years. "The lessons in my classes can meet all of the highest standards. This is ensured, first of all, by a high degree of demand towards the children and the quality of students' performance, by diligent preparation for each lesson, for each show. My life motto is "Never to stop at what has been accomplished, but seek, implement, improve! "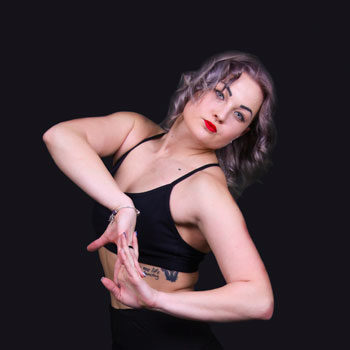 Kristina Podoprigora
CHOREOGRAPHY TEACHER
Christina Podoprigora is a trainer of modern and classical choreography. Street Dance directions (Hip-hop, Jazz-funk, Dancehall) are hot dances that will help to liberate your child. The direction of classical choreography will help to foster discipline, help to make beautiful posture and body, develop flexibility, musicality, plasticity.
Christina has more than 5 years of choreographic experience. Has been engaged in choreography for 22 years. She studied at the Kharkov State Academy of Culture. In the past, he was the head of choreographic groups that received prizes and Grand Prix in All-Ukrainian and International competitions. "What does choreography mean to me, you ask? No, this is not a hobby – this is a way of life that has already been established over the years! After all, how else, if my mother and grandmother are choreographers. Choreography is my path! This is exactly what the generation of the 21st century needs. My main rule is no rules! Feel free to dance and have fun! Express yourself! Be in trend, dance to your favorite and modern music! This is the main position of a successful student! When can you start, you ask? Yes, right now! In fact, your little baby can do much more than you think! Give a chance today! I have been dancing since I was 3 years old and I feel incredibly happy! So don't be shy! And you have everything ahead!"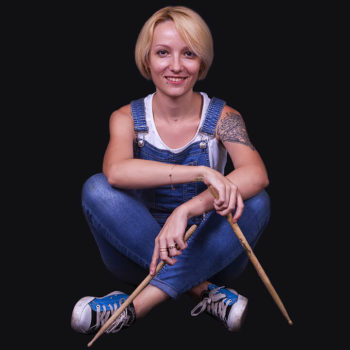 Anna Rodionova
PERCUSSION INSTRUMENTS TEACHER
In a few words, Anna Rodionova is smiling, caring, cute and very talented. Her students love her so much that they do not depart a single step from her; she tea­ches them to be real musicians. Anna graduated from the Orchestral Wind and Percussion Instruments Department of Kyiv Institute of Music n.a. R.M. Gli­era. Since 2017, she has been working at "Montes­sori Center" and performing at the orchestra of the National Philharmonic of Ukraine. Her pedagogical work experience – more than 8 years. Our students are very fortunate that they can learn from real artists, starting with the very first lessons from Anna Rodionova as their best teacher.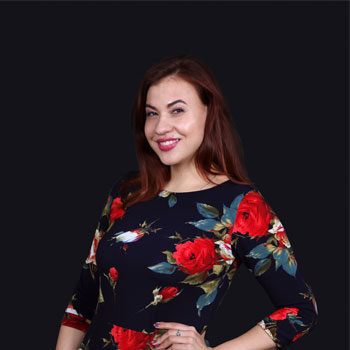 Natalia Zhuravel
VOCAL AND PIANO TEACHER
Natalia graduated from Kiev National University of Culture and Arts, received the qualification "Master of Musical Art". She has excellent teaching experience for both children and adults. Her lessons are small performances where the main character is a student who is involved in the wonderful world of music. Natalia herself is a wonderful performer with whom to take an example. Natalia Vladimirovna teaches lessons in academic and pop vocals, as well as piano lessons.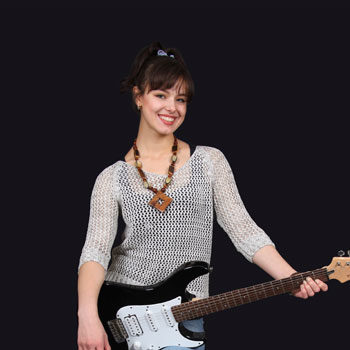 Nadia Prosiatnikova
GUITAR TEACHER
Nadezhda is an excellent teacher. Always punctual, polite and as professional as possible. Nadia joined our new guitar class since September 2019 and already has a fairly large team of students – more than 20 people. Her students are already performing at school concerts, conquering the music venues of Kiev along with their guitar gurus. Nadezhda graduated from Sumy Higher College of Arts and Culture. D.S. Bortnyansky in the guitar class and received the qualification of "Junior Specialist".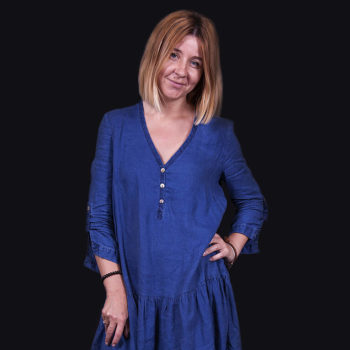 Ekaterina Bozhko
ART TEACHER
Ekaterina Bozhko is a talented and bright teacher of painting and drawing. All the fans of her pedagogical skills tend to gather around Ekaterina. All of her students successfully participate in contests and exhibitions. And Catherine is a beautiful mother as well! She gives special warmth and care to all the children who come to her class. Ekaterina graduated from Kyiv National University of Construction and Architecture with a degree in "Fine Arts". She has experience of teaching students for over 12 years. At the lessons of art, children are introduced to the materials, technologies, and techniques of embodying their creativity. Simultaneously, adults can learn new skills in the field of art just for pleasure.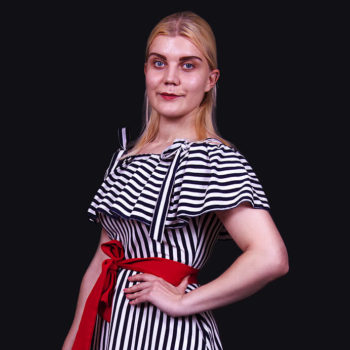 Christina Lutskaya
ART TEACHER
Christina Lutskaya is a very creative and attentive teacher. Her sensitive concern for each of her students is very captivating and convenient. Kristina Ste­pa­novna has a large class of students who actively participate in different competitions and exhibitions. Christina graduated from National Art School n.a. T.Shevchenko as a "Painter", and from the National Academy of Fine Arts and Architecture – as a "Restorer of Monumental Paintings". During her lessons, she pays maximum attention to everyone – both beginners and those who have already acquired certain skills and continue to improve them. Her priority is the motivation of a student – his endless desire to comprehend new technologies and techniques, to constantly improve the quality of his work. Such motivation is the goal which always leads to the pedagogical success.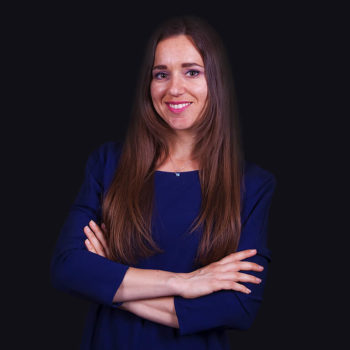 Ekaterina Romanyuk
ART TEACHER
Ekaterina Romanyuk is a teacher of painting, graphics and deco­ra­ti­ve arts. She graduated from the Khmelnytskyi National Univer­sity with a degree in "Graphic Design". Her pedagogical work experience is over 7 years. Since 2018, Catherine has been educating a large number of students at "Montes­sori Center", with whom she success­fully participates in All-Ukrainian exhibitions school competitions.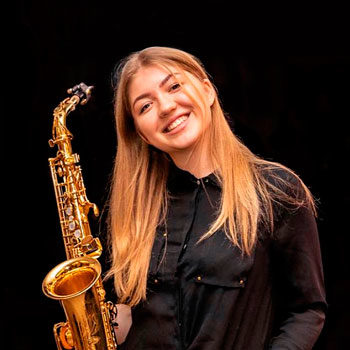 Viktoriia Tyshchyk
SAXOPHONE TEACHER
Victoria is a great musician and teacher. She graduated from the Kiev Municipal Academy of Music named after R. Glier. At the moment she is a student of the National Music Academy of Ukraine named after P.I. Tchaikovsky (a class of the professor of the Honored Artist of Ukraine, Professor Vasilievich Y.V.) Victoria is a laureate of All-Ukrainian and International competitions. She took part in master classes with such outstanding saxophonists as Jean – Denis Misha (France), Simon Derrick (Belgium), Nikita Zimin (Russia), Pavel Gusnar (Poland). Victoria takes an active part in various concerts, festivals and events.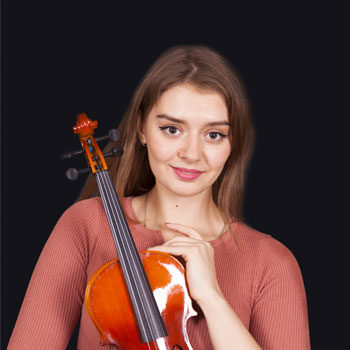 Maria Sydoruk
VIOLIN TEACHER
Maria joined our team in the summer of 2019 and already has a large class of violinists! Her students perform at concerts and improve their skills at an excellent pace and with great inspiration! Maria graduated from the National Pedagogical University. M.P. Drahomanova and received the qualification "Master of Musical Art". Maria owns two specialties: the violin class and the vocal class. Who knows, maybe in the near future we will hear not only how wonderful her students are playing the violin, but also singing vocals!