Our Team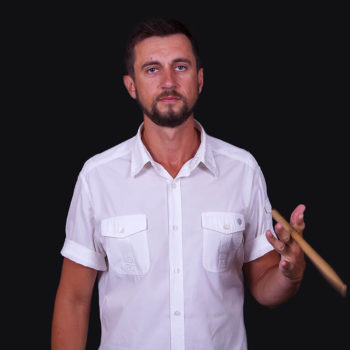 EVGENY PANCHENKO
PERCUSSION INSTRUMENTS TEACHER
Evgeny Panchenko is a musician to the very tips of drum sticks! His lessons can be compared with interesting journeys into the world of drums, music, and rhythm, which you do not want to leave after 45 minutes of a lesson. Evgeny graduated from Kyiv Institute of Music. n.a. RM Glier as a specialist in "Musical art, percussion instruments". His work experience as a musician is over 6 years. Students from the class of Evgeny Viktorovich perform at musical concerts and achieve excellent results in playing the full drum set, so they become real musicians from the very first months of study.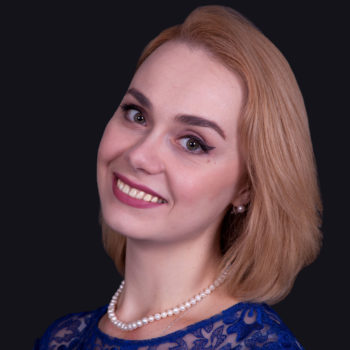 Maria Lopatina
PIANO TEACHER
Maria Lopatina is a great teacher. The joy of creativity and the beauty of music always reigns in her class. Maria graduated from the National Pedagogical University named after M.P.Drahomanov, the faculty of arts named after Anatoly Avdeevsky in piano, has experience as a teacher in a music school. Mariya Yurievna is an excellent pianist, winner of many All-Ukrainian and International competitions and festivals. Maria brings up the same winners in her class as she does!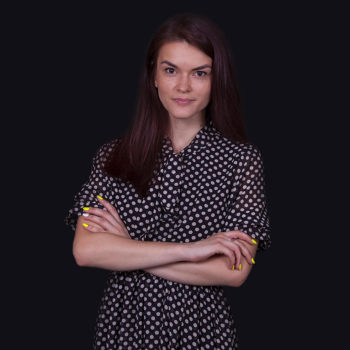 Ekaterina Chalaya
VOCAL AND PIANO TEACHER
Ekaterina Chalaya revealed her musical talent to us in Sep­tem­ber of 2016. Sensitive, subtle, feminine and at the same time, with confidence and strong character, Ekaterina educates today one of the largest classes of pianists and vocalists at "Montessori Center". Students simply adore her because the lessons are very creative and interesting! Moreover, Ekaterina Viktorovna receives the longest and warmest reviews from her students. Catherine graduated from The State Pedagogical University n.a. V. Vin­nichen­ko, receiving a degree in "Musical Art" (Kirovograd city). She also owns degrees as a teacher of the piano, percussion instruments and vocal. Catherine is the winner of many international competitions. Her pedagogical work experience is over 8 years. By learning together with Catherine, students grow as true professionals and acquire all necessary performing skills with great pleasure.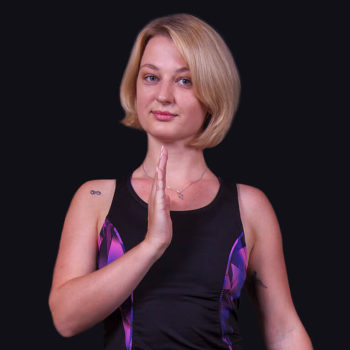 Yana Agafonova
YOGA COACH
Yana Agafonova is a yoga tra­i­ner: Whoever you are, at her lessons you will receive an unreal charge of energy, positive waves and absolute peace of mind. You will get what people usually lack in their everyday life – careful attention,positive thoughts and, of course, the pleasure of training. Your body will respond to you in return – with health and beauty. Yana has been practicing yoga since 2014, and today she successfully works with both children and adults. She has graduated as a yoga trainer from one of the best yoga schools in Ukraine, she has visited many professional seminars and masterclasses. "I do yoga with children and I know all the importance of an individual approach to every child. Our classes are held in the form of an easy game with an accessible presentation of information and learning of yoga poses. Yoga is a powerful foundation for children. It is vital for the further development of their careers in various sports, studies, and art, creating balance and mutual understanding between their parents and peers, the ability to cope with stresses and tensions. Children's yoga involves gymnastics, which adds physical health and helps to avoid problems such as scoliosis, posture distortion, flat feet and other disorders. As for adults, while performing asanas (postures in yoga), there is a great opportunity to work on your attention, body sensation, visualization, and psychosomatic work. "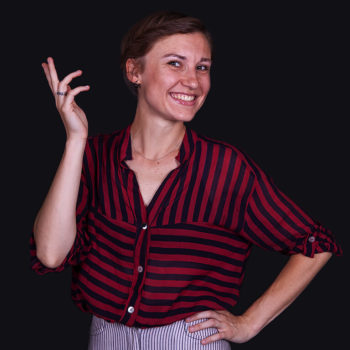 Anna Vigura
ART TEACHER
Anna Vigura is a teacher of painting, graphics and deco­ra­ti­ve arts. What is more, she successfully teaches in English as well. Anna's huge class is full of multinational aspiring artists, carried away by their teachers in the world of art. Anna graduated from the graphic arts faculty of Odesa South Ukrainian Peda­go­gi­cal Univer­sity with a degree in graphic design. Since 2016, she has been educating future winners and participants of various competitions and exhibitions at "Montessori Center". Twice a year, Anna's students take part in the All-Ukrainian Open Competition-Exhibition #MYSTETSTVO.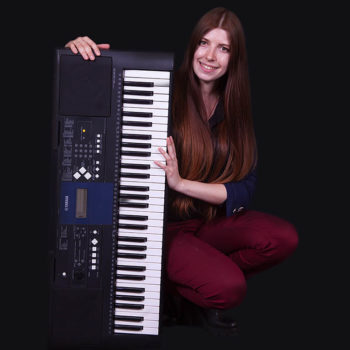 Valeria Taran
PIANO TEACHER
Valeria Taran can be described as creative and independent, musical and original, risky and reliable. We have four academic years behind us. Dif­ficult, dif­fe­rent, interesting and saturated, creative and successful. Lera knows how to study! Lera knows what to tell the student to make him confident! Lera knows what to tell the student's mom to find a soulmate in her. Valeria graduated from The National Music Academy of Ukraine n.a. P. Tchaikovsky (class of O. Bezborodko). She is the winner of the All-Ukrainian New Music Olympiad "Voice of Ukraine", and she is actively involved in the preparation of students for various concerts and competitions. Her pedagogical work experience is more than 4 years.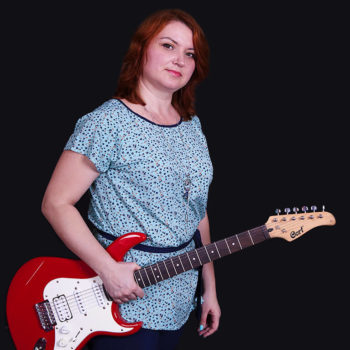 Lesya Igitskaya
GUITAR TEACHER
Lesya Igitskaya is an incredibly talented guitar teacher. Lesia has a huge class of students who trust her endlessly. Lesya Ivanovna graduated from the Folk Department of Uzhgorod State Music School n.a. D. Za­do­ra, as well as from Rivne State Humanitarian University with a degree in "Guitar teacher, orchestra artist, orchestra leader". She worked as an artist in the orchestra of Trans­carpa­thian Regional Drama and Comedy Theater. Her peda­go­gi­cal experience – 15 years. During her lessons, the teacher will introduce students to all the guitar types: classical, electric and bass guitar. The fascinating world of guitar music captures every student – both child and adult. Whoever is in the guitar class, he will stay here for a long time!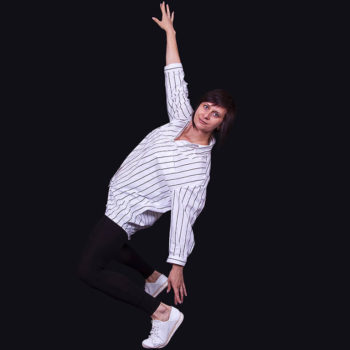 Olga Krivtsova
CHOREOGRAPHY TEACHER
Olga Krivtsova has been a mo­dern dance coach at "Mon­tes­sori Center" since 2016. For several years, Olga's class has grown and strengthened. Olga graduated from Kyiv University of Culture and Arts with a degree in "Cho­reo­gra­pher of folk choreo­graphy, an artist and a teacher of specialized disciplines". Her peda­go­gical work experience is more than 6 years. "The lessons in my classes can meet all of the highest standards. This is ensured, first of all, by a high degree of demand towards the children and the quality of students' performance, by diligent preparation for each lesson, for each show. My life motto is "Never to stop at what has been accomplished, but seek, implement, improve! "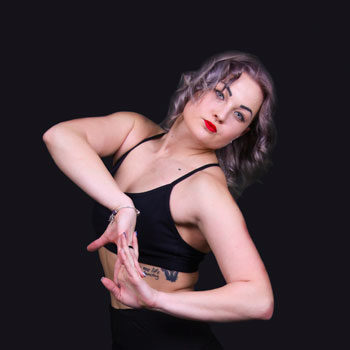 Kristina Podoprigora
CHOREOGRAPHY TEACHER
Christina is a coach of modern choreography. The directions of Street Dance (Hip-hop, Jazz-fank, Dancehall) are hot dances that will help liberate your child. Christina has a choreographic experience of 5 years. Has been engaged in choreography for 22 years. Studied at the Kharkov State Academy of Culture. In the past, he was the leader of choreographic groups that received prizes and Grand Prix at All-Ukrainian and International competitions. "What does choreography mean to me, you ask? No, it's not a hobby – it's a long-standing way of life! After all, how else, if my mother and grandmother are choreographers. My path is modern choreography! This is exactly what the 21st century generation needs. My main rule is no rules! Feel free in dance and get high! Express yourself! Be trendy, dance to modern hits! Here is the main position of a successful student! You ask – when can you start? Yes, right now! In fact, your little one baby can be a lot more than you think! Give a chance today! I have been dancing since 3 years old and feel extremely happy! So do not be shy! And you have everything ahead!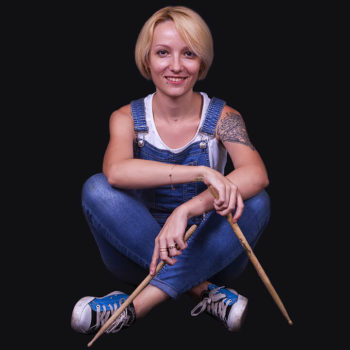 Anna Rodionova
PERCUSSION INSTRUMENTS TEACHER
In a few words, Anna Rodionova is smiling, caring, cute and very talented. Her students love her so much that they do not depart a single step from her; she tea­ches them to be real musicians. Anna graduated from the Orchestral Wind and Percussion Instruments Department of Kyiv Institute of Music n.a. R.M. Gli­era. Since 2017, she has been working at "Montes­sori Center" and performing at the orchestra of the National Philharmonic of Ukraine. Her pedagogical work experience – more than 8 years. Our students are very fortunate that they can learn from real artists, starting with the very first lessons from Anna Rodionova as their best teacher.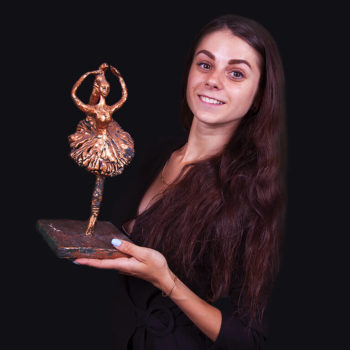 Victoria Popova
CHOREOGRAPHY TEACHER
Victoria Popova is a choreo­gra­pher of the clas­sical dance. The hashtag, that most commonly relates to her is #coachofmydream. Her motto is even more simple: "Just dance!" Victoria knows that if you work, you always achieve a result; if you love, you will receive an answer; if you dance with delight, you will definitely capture the glimpses of others. For several years, Vika has been surrounding her little ballerinas with care and attention in the walls of "Montessori Center", and during this time, her circle of fans has grown dramatically! Miniature dancers simply adore their coach and dream of having such a beautiful and flexible body. And mothers wish their children to be alike their ideal coach. Victoria graduated from Kherson State University with a degree in choreography. During the studying process, she actively participates in concerts and festivals of choreography. Victoria is used to the persistent work, her figure clearly speaks about it! Victoria is used to fighting, her posture is talking about it! Victoria is used to achieving her goals – this is what the gorgeous shots from the photo studio say! And we will also align our backs and be present during the morning run or (what is even better!) in the choreographic hall of Victoria Popova.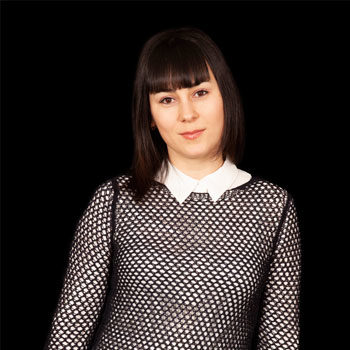 VALERIA POLISHCHUK
DRESSMAKING AND SEWING TEACHER
Valeria is a designer of garments for factories and ateliers. She received a higher special education with honors from the Odessa State Academy of Civil Engineering and Architecture, as well as from the Kiev National University of Culture and Arts, specializing in Fashion Design. At the Montessori Center, Valeria teaches cutting and sewing to children and adults. Moms and daughters are very fond of the creativity and initiative of their teacher!