Our Team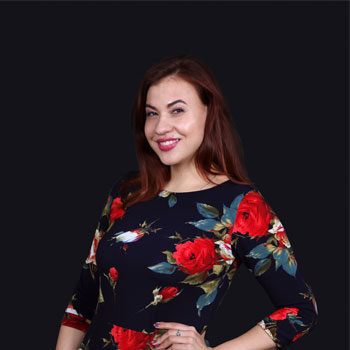 Natalia Zhuravel
VOCAL AND PIANO TEACHER
Natalia graduated from Kiev National University of Culture and Arts, received the qualification "Master of Musical Art". She has excellent teaching experience for both children and adults. Her lessons are small performances where the main character is a student who is involved in the wonderful world of music. Natalia herself is a wonderful performer with whom to take an example. Natalia Vladimirovna teaches lessons in academic and pop vocals, as well as piano lessons.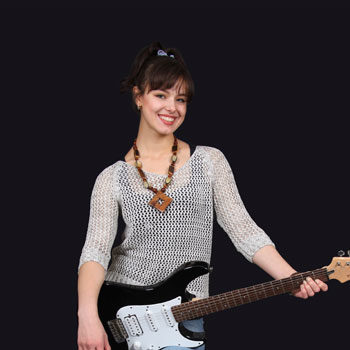 Nadia Prosiatnikova
GUITAR TEACHER
Nadezhda is an excellent teacher. Always punctual, polite and as professional as possible. Nadia joined our new guitar class since September 2019 and already has a fairly large team of students – more than 20 people. Her students are already performing at school concerts, conquering the music venues of Kiev along with their guitar gurus. Nadezhda graduated from Sumy Higher College of Arts and Culture. D.S. Bortnyansky in the guitar class and received the qualification of "Junior Specialist".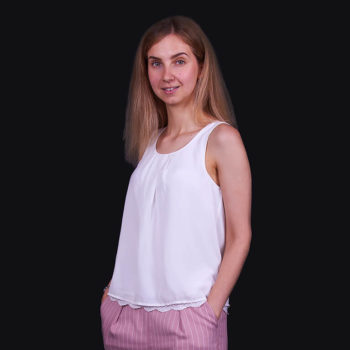 Valeria Rakhmanova
PIANO TEACHER
Valeria Rakhmanova is a brilliant pianist and attentive teacher who educates not only young pianists but also adults. Valeria graduated from Tambov State Music and Pedagogical Institute n.a. S. Rachmaninov as a piano teacher and has been success­fully working for over 5 years. Among her achievements, there are numerous compe­ti­tions, concerts and a high level of her students' perfor­mance. During the piano lessons, Valeria shows various techniques to the students, which is very fas­ci­na­ting, captivating, and most impor­tantly – motivating!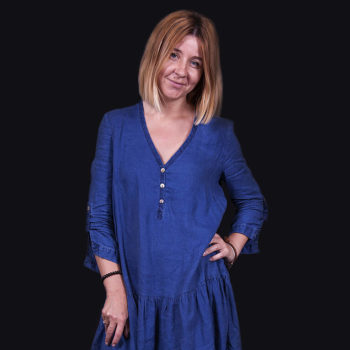 Ekaterina Bozhko
ART TEACHER
Ekaterina Bozhko is a talented and bright teacher of painting and drawing. All the fans of her pedagogical skills tend to gather around Ekaterina. All of her students successfully participate in contests and exhibitions. And Catherine is a beautiful mother as well! She gives special warmth and care to all the children who come to her class. Ekaterina graduated from Kyiv National University of Construction and Architecture with a degree in "Fine Arts". She has experience of teaching students for over 12 years. At the lessons of art, children are introduced to the materials, technologies, and techniques of embodying their creativity. Simultaneously, adults can learn new skills in the field of art just for pleasure.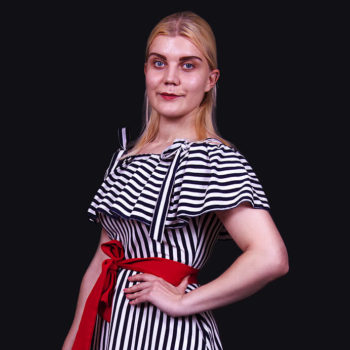 Christina Lutskaya
ART TEACHER
Christina Lutskaya is a very creative and attentive teacher. Her sensitive concern for each of her students is very captivating and convenient. Kristina Ste­pa­novna has a large class of students who actively participate in different competitions and exhibitions. Christina graduated from National Art School n.a. T.Shevchenko as a "Painter", and from the National Academy of Fine Arts and Architecture – as a "Restorer of Monumental Paintings". During her lessons, she pays maximum attention to everyone – both beginners and those who have already acquired certain skills and continue to improve them. Her priority is the motivation of a student – his endless desire to comprehend new technologies and techniques, to constantly improve the quality of his work. Such motivation is the goal which always leads to the pedagogical success.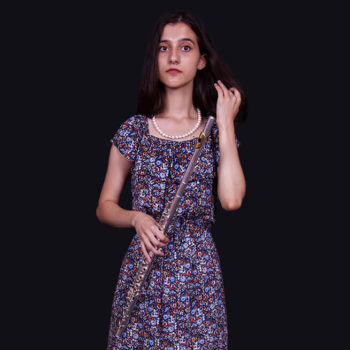 Mzia Orashvili
FLUTE TEACHER
Mzia Orashvili graduated from Kyiv Institute of Music n.a. R.M. Glier as a flute teacher. Mzia is a laureate of international and all-Ukrainian contests. Her peda­go­gical experience is more than 3 years. She has been successfully teaching her students to play the flute, flute piccolo and block flute. The teacher masterfully takes her students into the world of flute music. Mzia teaches the basics of performing techniques and encourages to conquer the stage with original pieces.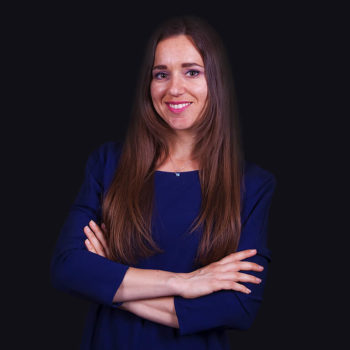 Ekaterina Romanyuk
ART TEACHER
Ekaterina Romanyuk is a teacher of painting, graphics and deco­ra­ti­ve arts. She graduated from the Khmelnytskyi National Univer­sity with a degree in "Graphic Design". Her pedagogical work experience is over 7 years. Since 2018, Catherine has been educating a large number of students at "Montes­sori Center", with whom she success­fully participates in All-Ukrainian exhibitions school competitions.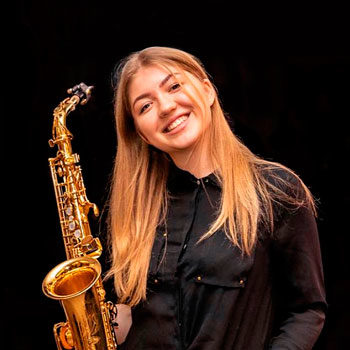 Viktoriia Tyshchyk
SAXOPHONE TEACHER
Victoria is a great musician and teacher. She graduated from the Kiev Municipal Academy of Music named after R. Glier. At the moment she is a student of the National Music Academy of Ukraine named after P.I. Tchaikovsky (a class of the professor of the Honored Artist of Ukraine, Professor Vasilievich Y.V.) Victoria is a laureate of All-Ukrainian and International competitions. She took part in master classes with such outstanding saxophonists as Jean – Denis Misha (France), Simon Derrick (Belgium), Nikita Zimin (Russia), Pavel Gusnar (Poland). Victoria takes an active part in various concerts, festivals and events.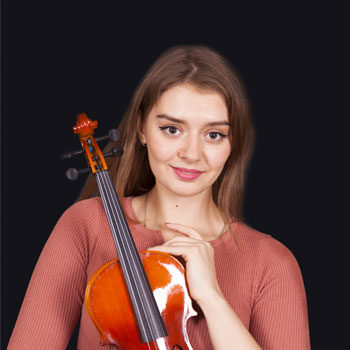 Maria Sydoruk
VIOLIN TEACHER
Maria joined our team in the summer of 2019 and already has a large class of violinists! Her students perform at concerts and improve their skills at an excellent pace and with great inspiration! Maria graduated from the National Pedagogical University. M.P. Drahomanova and received the qualification "Master of Musical Art". Maria owns two specialties: the violin class and the vocal class. Who knows, maybe in the near future we will hear not only how wonderful her students are playing the violin, but also singing vocals!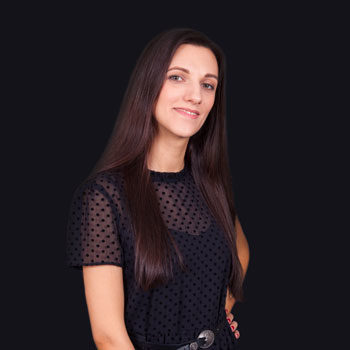 Maria Shevchenko
ART TEACHER
Maria graduated from Kiev State Institute of Decorative and Applied Arts and Design. M. Boychuk majoring in Art Ceramics. At our school, Maria teaches painting, drawing, modeling and sculpture. Pedagogical experience of Maria is 6 years. In her class, students study academic drawing, decorative painting, various techniques and materials. Join the class of students of Maria Andreevna and in excellent company you will find wonderful results of your own creativity!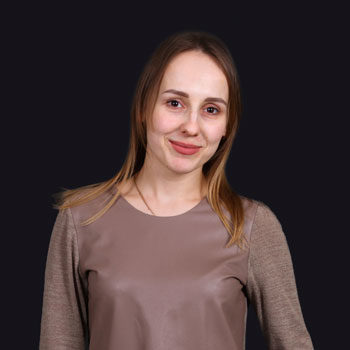 Ekaterina Birina
ADMINISTRATOR
Katya is a professional administrator and a reliable partner! All the wishes of parents and students according to the schedule will be fulfilled, all teachers will be satisfied and the school will be in perfect order. Ekaterina has experience as an administrator, as well as a musical education, which is very useful in her work at our art school.
Elizabeth Smirnova
ADMINISTRATOR
Elizabeth is a reliable and kind colleague for all of us! Always in a good mood, responsible and professional will help to make the best schedule for each student and for each mother! Lisa joined our team in the fall of 2019 and we are happy that we have found each other! Elizaveta was educated at the Kiev College of Hotel Management with a degree in Merchandising and Commerce, and has experience working in English schools, sports clubs and early childhood development studios.