Our Team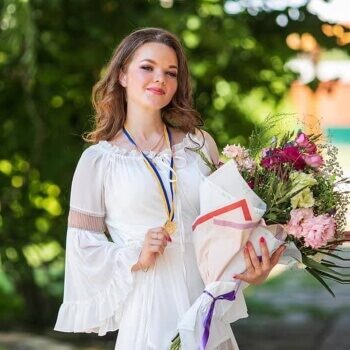 Stadnyk Yuliia
TEACHER OF ENGLISH, RUSSIAN, UKRAINIAN LANGUAGES
Julia is a wonderful teacher of English, Russian and Ukrainian languages! Her lessons are a fairy tale world of adventure for children and constructive planning for adults. Julia graduated from the Kiev National Linguistic University. The experience of working with children allows you to find the key to everyone and involve them in the world of knowledge!
Join Julia's English lessons and improve your knowledge!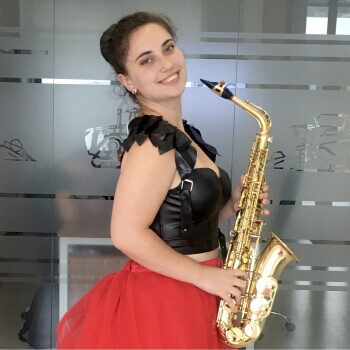 Anastasia Posmerega
SAXOPHONE TEACHER
Anastasia Posmerega is a saxophone teacher at the Montessori Center. Graduated from the National Academy of Music. P.I. Tchaikovsky with honors, class of the teacher of the Honored Artist of Ukraine, laureate of the M.V. Lysenko – Yu.V. Vasilevich.
Anastasia is a laureate of regional, all-Ukrainian and international competitions, an active participant in concerts and festivals. She took part in master classes by Claude Delangle (France), Arnaud Bornkamp (Netherlands), Jean-Denis Mischa (France), Margarita Shaposhnikova (Russia), Nikita Zimin (Russia), Pavel Gusnar (Poland), Richard Zolodevsky (Poland). Anastasia is a member of the only female orchestra in Ukraine "Queens orchestra".
Anastasia's students are inspired to learn the basics of performing bright modern and classical compositions on the saxophone! Join you too!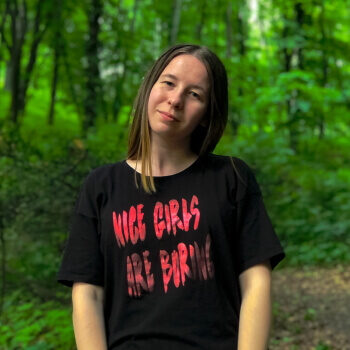 Diana Rusanova
VIOLIN TEACHER
Diana Rusanova is a violin teacher at the Montessori Center. Graduated from the Kherson State University in the violin class, now she combines pedagogical work with performing work: in addition to a teacher, Diana is an artist of the State Academic Pop Symphony Orchestra of Ukraine. In Diana's lessons, the first place is occupied by professionalism and a correctly methodically constructed program for each student – these are the best examples of classics and transcriptions of world hits for the violin part. Violin lessons with Diana Rusanova are a bright musical world and a complete immersion in the magical sounds of the violin! Give yourself and your children the fulfillment of your cherished desire – a beautiful game and violin lessons!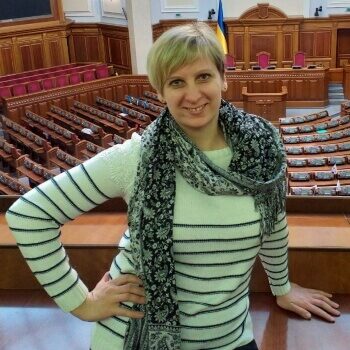 Victoria Shevchenko
MATH TEACHER
Victoria Shevchenko is a math teacher at the Montessori Center. Victoria has over 15 years of experience working with children. He owns modern methods, conducts online lessons with school-age children of different levels of knowledge, prepares for exams and ZNO.
Victoria graduated from the Faculty of Physics and Mathematics of the Nezhin State Pedagogical University. M. Gogol with a degree in "Teacher of Mathematics and Fundamentals of Economics". We are waiting for you at the lessons of mathematics!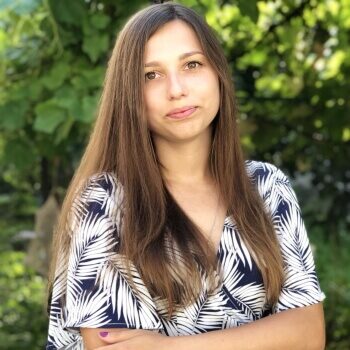 Alina Gerzhan
SPEECH THERAPIST
My name is Alina! I am a speech pathologist with 6 years of experience. The speech development of a child is of particular importance in the formation of a personality, because a child's speech largely determines his intellectual, communicative and general cultural level. The task of a speech therapist is to activate and form the correct development of speech.
You can contact me if your child pronounces sounds incorrectly or replaces them. If it is difficult for a child to build a dialogue, tell a story and express an opinion coherently. If the speech is not clear and incomprehensible. I am working on the development of grammar, vocabulary on sound pronunciation. Development of the articulatory apparatus, phonemic hearing and higher mental functions (memory, attention, thinking). With me, your child will speak confidently and clearly, I find an approach to all the little "don't want to".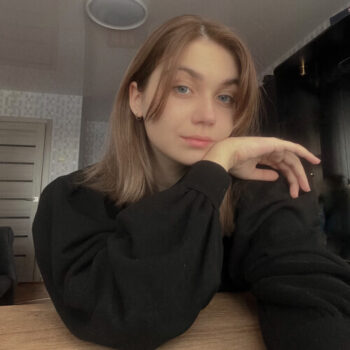 Anastasia Kopchuk
ENGLISH, SPANISH, UKRAINIAN LANGUAGE TEACHER
Anastasia Kopchuk is an excellent teacher of English, Spanish and Ukrainian as a foreign language. Anastasia has excellent experience working with children and adults. Children are delighted with the lessons, because the friendly atmosphere makes it easy to learn the material, and a young and professional teacher will always help you understand the most difficult topic!
At the English and Spanish lessons, Anastasia will help to improve the school curriculum, as well as extracurricular topics will be interesting and useful – conversational, grammar, writing, all the required forms of language learning in an accessible way and with an interesting explanation!
At the lessons of Ukrainian as a foreign language or according to the school curriculum of the Ukrainian school – Anastasia will carefully and professionally develop a training program individually for each student!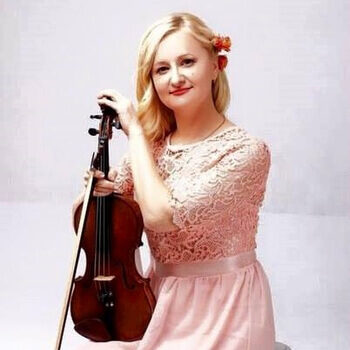 Svetlana Gerber
VIOLIN TEACHER
Svetlana Gerber is a violin teacher at the Montessori Center. Svetlana graduated from Kharkiv State University of Arts. I.P. Kotlyarevsky. Since 2022, he has been combining work at the National Radio Company of Ukraine as an orchestra artist and at our school as a teacher.
Both children and adults study in Svetlana's class. Each of her students knows that this is the best teacher: sensitive, attentive and professional, she will always support and inspire!
At the violin lessons at the "Montessori Center" you will not only learn to play yourself, but also get acquainted with the world masterpieces of violin music performed by the teacher!
We are waiting for you at violin lessons!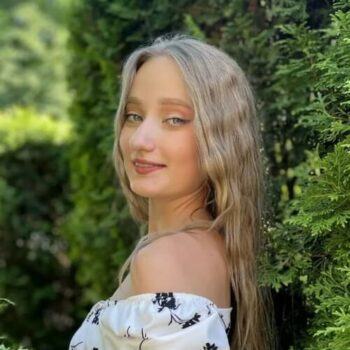 Yevheniya Ilkun
VOCAL TEACHER
Yevheniya Ilkun – vocal teacher at the Montessori Center. Graduated from the Sumy Professional College of Arts and Culture. D. Bortnyansky and is currently a student of the National Music Academy. P.I. Tchaikovsky. Evgenia gives her best in her lessons, paying maximum attention to the personal characteristics of each student: how her ear is developed, a sense of rhythm, what features of temperament, character, and, based on the individuality of each child, selects one or another repertoire. After all, we like to sing what works best, so each work should be liked! Each Evgenia's vocal lesson is a fascinating story about vocal technique, sound production techniques and interesting practical tasks! We are waiting for you at the vocal lessons at the Montessori Center!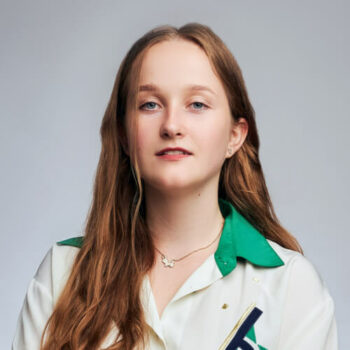 Daria Maksimova
PIANO TEACHER
Daria Maksimova is a wonderful piano teacher at Montessori Center. Daria graduated from the Kharkov Musical College. B.M. Lyatoshynsky, and is now a student of the National Music Academy. P.I. Tchaikovsky and studies at the conservatory in Spain under the student exchange program. International experience allows Dasha to easily find a language with students from all over the world. Children from the USA, Israel, China, and European countries study in her class. Daria is fluent in English and specializes in online lessons. You will play masterpieces of classical and popular music, even if you are in another country – the main thing is that you have a piano at home and a great desire to play it! We are waiting for you at Daria's piano lessons!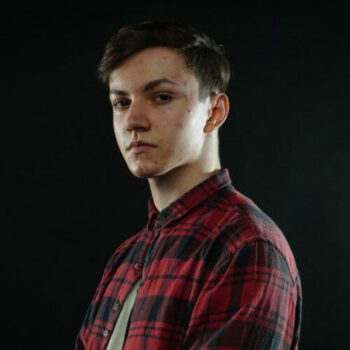 Ivan Postol
DRUMS TEACHER
Ivan Postol is a drum teacher at the Montessori Center. Ivan graduated from the Kiev National University of Culture and Arts and has excellent experience in teaching children and adults.
Drum lessons have a special energy, because the musician's bible begins with the words "in the beginning there was rhythm". At drum lessons you will master musical rhythms and styles of music, you will play the kit just like your teacher, the main thing is your desire to master the technique and not give up in the face of difficulties, because a musician is not only a talent, but also the development of techniques, techniques and learning your musical part!
We are waiting for you at the drum lessons at the Montessori Center.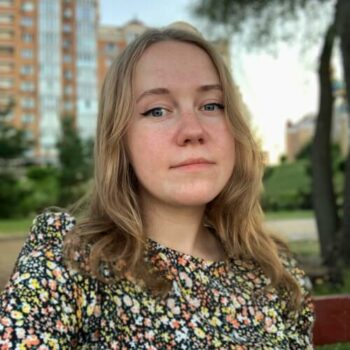 Kristina Merchuk
CELLO TEACHER
Kristina Merchuk is a cello teacher at the Montessori Center. Christina is a student of the National Academy of Music. P.I. Tchaikovsky.
A young acting cellist will make both an adult and a child tremble when she starts playing herself. The magical sound of her instrument is both mesmerizing and inspiring. You will love the cello as much as Christina loves it.
Cello lessons are a world like no other, where the main thing is your desire to learn how to play the cello, and our teacher will help you with this.
In just a few lessons you will be playing light melodies, learn how to hold the cello correctly, how to use the bow, and even choose your own program!
We are waiting for you at the cello lessons!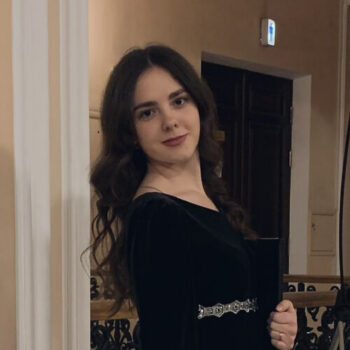 Alexandra Stychuk
PIANO TEACHER
Alexandra Stychuk is a piano teacher at Montessori Center. Alexandra graduated from the Volyn Professional College of Culture and Arts named after I.F. Stravinsky, and is now a student of the National Music Academy. P.I. Tchaikovsky. At Alexandra's lessons, children are delighted with her kindness and sensitivity, the teacher immediately becomes a good friend, and will skillfully lead his students into the piano world.
Alexandra's lessons include classical and modern music, world and Ukrainian hits.
If you have been dreaming of learning to play the piano for a long time, now is the time! We are waiting for you at the piano lessons at the Montessori Center.