Our Team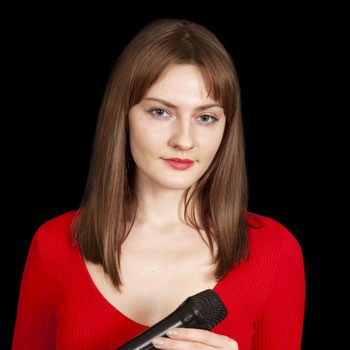 Anastasia Danilova
VOCAL TEACHER
Anastasia Alexandrovna – a teacher of pop vocal with a great experience working with both children and adults. Anastasia teaches vocals in English as well. Anastasia has a higher professional music education (Kyiv Municipal Music Academy named after R.M. Glier). In her pedagogical practice she uses the technique of breathing gymnastics A.N. Strelnikova. Anastasia`s classes are structured as follows: breathing exercises / work on proper breathing; statement of speech and work on diction; chanting; work on musical works.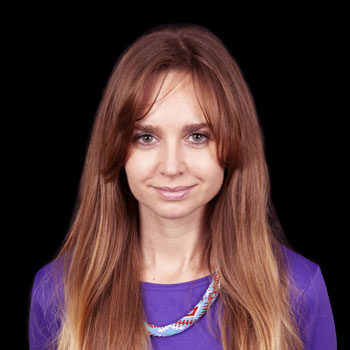 Valeria Moskvitina-Dmytrieva
ART TEACHER
Valeria graduated from Kherson State University with a degree in Teacher of Fine Arts. She has excellent pedagogical experience at the art school, as well as the experience of the head of the art department. Valeria Andreyevna works with children from 5 years old, and also leads art lessons with beginner adults. She holds master classes in painting, as well as in technique impasto, drawing with a palette knife. Since 2016, she has been conducting art therapy for military personnel, their families and children. She is actively involved in volunteer work with migrants. Painter, works in the artistic direction of impressionism, impasto technique. She takes part in international open air and exhibitions. Held more than 20 solo exhibitions in Ukraine and Poland. Her works are in private collections in Poland, Sweden, Switzerland, USA, Italy and other countries of the world.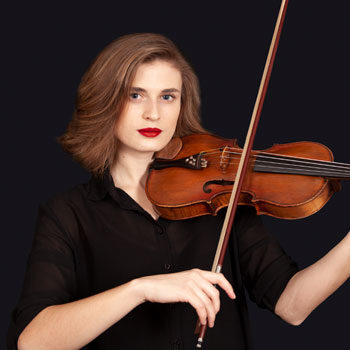 Yelena Fedorishina
VIOLIN TEACHER
Yelena Fedorishina is a violin teacher at the Montessori Center since 2018. Elena received her education at the Rivne Music College of the Rivne State Humanitarian University and received the qualification "Teacher of elementary schools, artist of an orchestra and ensemble." At Elena's violin lessons, both classical and modern music sound, her students are both children and adults. Join us in the world of violin music!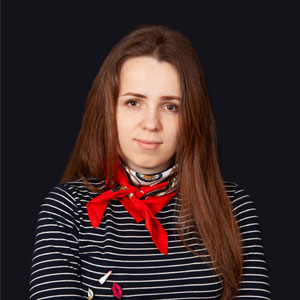 Julia Krupa
VOCAL TEACHER
Julia Krupa – vocal teacher and artistic curator of the show group "SWIPES". Julia is very professional in teaching beginner vocalists – this is breathing and acquaintance with academic music. Even if you came to pop vocal lessons, you need to correctly feel the voice support, to know the basics of staging the "vocal apparatus" and in this Julia is a real guru. Yulia Alexandrovna was educated at the Kiev National University of Culture and Arts with a degree in Musical Art. She joined the Montessori Center team in the beginning 2020.
Elizabeth Smirnova
ADMINISTRATOR
Elizabeth is a reliable and kind colleague for all of us! Always in a good mood, responsible and professional will help to make the best schedule for each student and for each mother! Lisa joined our team in the fall of 2019 and we are happy that we have found each other! Elizaveta was educated at the Kiev College of Hotel Management with a degree in Merchandising and Commerce, and has experience working in English schools, sports clubs and early childhood development studios.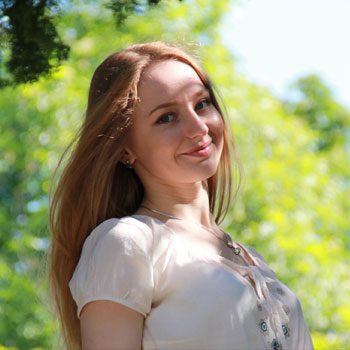 Kateryna Vasylieva
PIANO TEACHER
Kateryna Vasylieva – graduated with honors from the Kiev Municipal Academy of Music named after R.M. Gliera on piano. She is the winner of many competitions and festivals and has a large class of students. "In the classroom I try to explain the logic of the piano to the students as clearly as possible, relying on my own knowledge and experience. I teach myself to work independently and competently on musical text, I pay attention to the natural position of the hand and the healthy position of the body with the instrument. I work out with students to the fullest, "because your success is my success! Personal achievements: Festival "Music of the peoples of the Crimea" (Feodosia, 2012), Festival-competition "Neuhaus music meetings" (Kirovograd, 2015), Competition in memory of A.G. Orlova, (Kiev, 2016), International Competition named after M.K. Medtner (St. Petersburg, 2017), Charity musical projects "For children from children. With love! "(Kiev, 2017-2018), concerts in Ukraine and other countries.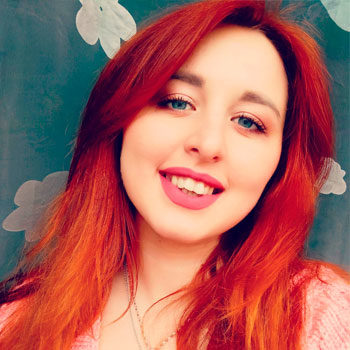 Tatiana Demedenko
VOCAL TEACHER
Tatyana Demedenko is a teacher of pop vocal at the Montessori Center. She graduated with honors from the Kiev Institute of Music. R.M. Glier. She is a laureate of many All-Ukrainian and International competitions, as well as a participant in festivals. In her lessons, Tatyana applies the model of individual preparation and communication with each student. It will be with great pleasure that he will help the student realize that each person has the ability and ability to sing, to eradicate all constrictions, to positively tune in and first of all, find the right vibrations and believe in oneself. Tatyana does a lot of work on staging breathing and correct voice recognition. Uses a repertoire of different styles and genres in the lessons. "I adhere to the principle that everything in life can be learned. I put music on one of the first places in life. I can't live without art! I like to make people happy and see their bright emotions and smiles on their faces. My goal is to prove to you that you already know how to sing and you can definitely sing! "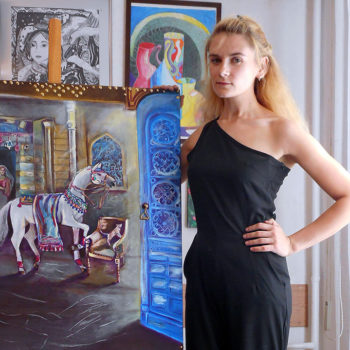 Anastasia Oleynikova
ART TEACHER
Anastasia Oleynikova brings up the most talented students of "Montessori Center" from 2015 – she holds lessons in painting, drawing, modeling and deco­ra­tive arts. Anastasia graduated from Kryvyi Rih State Peda­go­gical Univer­sity with a degree in visual arts. She is a participant of various competitions and exhibitions: All-Ukrainian competition-exhibition of works of art "MYSTETSTVO", Chelsea Inter­natio­nal Fine Art Com­pe­ti­tion. What is more, many of her works are exhibited in the private collections in Ukraine, Germany and many of the CIS countries. Her pedago­gical experience is 6 years.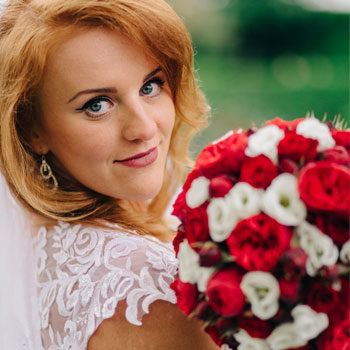 Zlata Velychko
VOCAL TEACHER
Zlata is a teacher of pop and academic vocals at the Montessori Center. Zlata Yurievna received a complete higher education at the National Music Academy. P.I. Tchaikovsky and qualified as a master of musical art, conductor of the choir, university teacher of the III-IV level of accreditation, concert performer, artist of the choir. In November 2018, she received a certificate of advanced training at the Institute of Postgraduate Pedagogical Education. An individual approach to each student is the basis of the vocal teaching methodology. Classes are held in the complex: vocals, acting, stage plastic, studies with students pop and classical repertoire, prepares for concert activities and participation in competitions.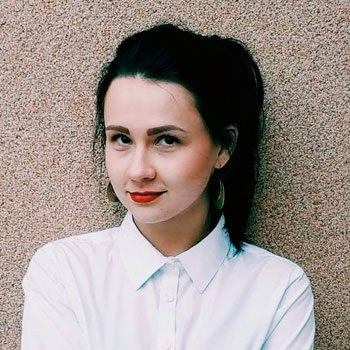 Oleksandra Herasymenko
CELLO TEACHER
Alexandra is a cello teacher. Higher education received at the National Music Academy. P.I. Tchaikovsky. Alexandra does not have many cello students, because this is a very difficult instrument and not everyone dares to comprehend it! But if you get to the lesson of our teacher, then this is for a long time! An interesting musical excursion into the world of music awaits every student who enters the cello class! We already bought a cello for school and you won't need to buy it for yourself until you definitely decide to connect your life with this particular musical instrument! We are waiting for you for cello lessons!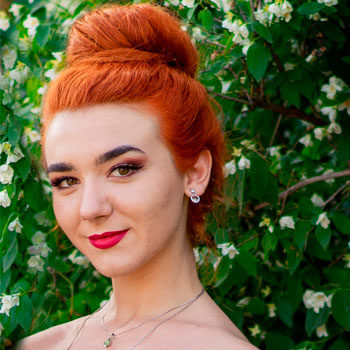 Kateryna Mukha
GUITAR TEACHER
Ekaterina is a guitar teacher. She graduated with honors from the Sumy Higher School of Arts and Culture named after D.S. Bortnyansky. She is a laureate of numerous All-Ukrainian competitions and a participant in many festivals. Joined the Montessori Center team in the fall of 2019. "I am constantly evolving, learning fast. I like to work in a team. I am a person who sets a goal and appreciates the result. I love various types of art and study vocals. I'm waiting for you at my guitar lessons at the Montessori Center.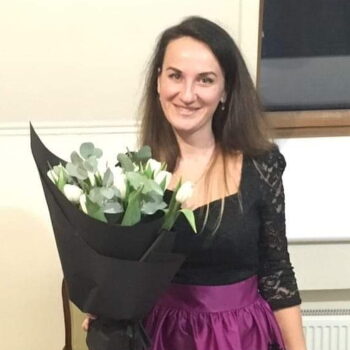 Maria Glinskaya
VOCAL TEACHER
Maria is a pop vocal teacher since 2007. She graduated from the Kiev National University of Culture and Arts, specializing in pop vocal teacher and artist-vocalist. Throughout her career as a teacher, she studied vocals with show business stars, took part in the jury of the All-Ukrainian song competitions. Maria's students take an active part in all kinds of concerts, festivals and competitions. Most of the students became laureates not only at the All-Ukrainian, but also at the International platforms (Italy, France, Poland, Turkey). "In the educational process, I pay great attention to the formulation of the voice, the development of musical ear, the manner of performance, the presentation of sound, detailing the work with diaphragmatic breathing. Correctly delivered breathing affects not only the color and timbre of the sound, the breadth of the range, but also helps relieve stress. For people working in business, I use training and voice training techniques, after which the voice will not get tired, break down and sit down under loads (presentations, trainings, conducting meetings). The voice will sound confident, even and deep."